IE News
Unveiling IE's sustainable new studio home
IE has moved to a new studio, offering a beautiful and inspiring environment for IE's staff, clients and creative partners.
---

---
This week we officially opened IE's new home, a sustainable studio in Birmingham's Jewellery Quarter.
Our Founder and Managing Director, Ollie Leggett commented, "We're a values-driven business, like the charity, health and education clients we serve. The new studio offers our clients a better experience for creative collaboration with our award-winning team, all under one eco-friendly roof." 
IE is in the process of becoming a Certified B Corporation. As part of our ongoing efforts to balance purpose with profit, the plans for our new studio have focused on sustainability. You can read more about all the eco-friendly features in a separate blog post: Creating IE's sustainable, eco-friendly studio.
Inspiring, collaborative working environment
The new studio is a beautiful and inspiring environment for IE's staff, clients and creative partners. Having worked from home since the start of the Covid-19 pandemic, IE plans to adopt a flexible, hybrid-working approach. Staff will have the option to work from home up to four days per week.
Ollie explained, "We're confident this improved studio environment will make us even more attractive as an employer. That means we can continue to support our clients with the industry's very best Consultants, Creatives, Web Developers, and Project Managers. 
"We will offer staff the flexibility of hybrid working. However, we hope the new studio will encourage the team to embrace being back in the city and rediscover the benefits of face-to-face collaboration."
Breathing new life into Birmingham design history
The new studio is on Pope Street in the Kettleworks development. The Kettleworks is part of a key regeneration area in Birmingham. 
The building itself reused the original superstructure of a derelict factory. Dating back to 1900, Kettleworks was the home of Swan Brand, who pioneered the electric kettle in the 1930s. And as you open the front doors into the new space, alongside a red, four foot 3D version of the IE logo, stands a classic Swan kettle from that era – complete with original packaging.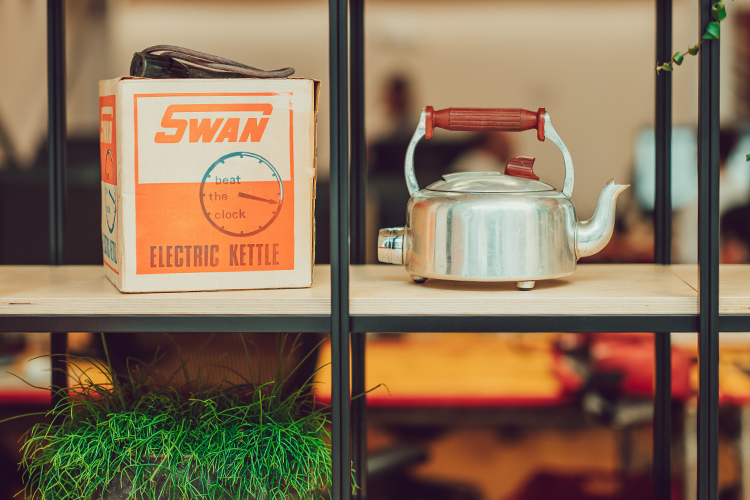 IE's heritage is rather more recent, but inextricably linked to Birmingham. After a brief spell in a shared workspace in Digbeth, IE quickly found its home in the Jewellery Quarter. After tenancies in the Big Peg and Aquinas House on Warstone Lane, this will be our first time as the sole occupants of our own purpose-built office space. 
As Ollie explained, "IE has always been something of a hidden gem in the Jewellery Quarter. We hope that our fabulous new studio will make us more visible and bring us closer to Birmingham's creative community."
Birmingham and beyond
While IE is proud to be a Birmingham agency, we serve many clients in London and right across the UK and Ireland. Our consultants travel to our clients or increasingly deliver successful projects remotely. 
Built to last 
Ollie has bought the property for exclusive use by IE Brand and IE Digital. It's a significant long-term investment in the agency and its people, with a bespoke interior fit-out that's built to last. 
The whole project was achieved with no external funding, just IE's working capital from years of careful financial management.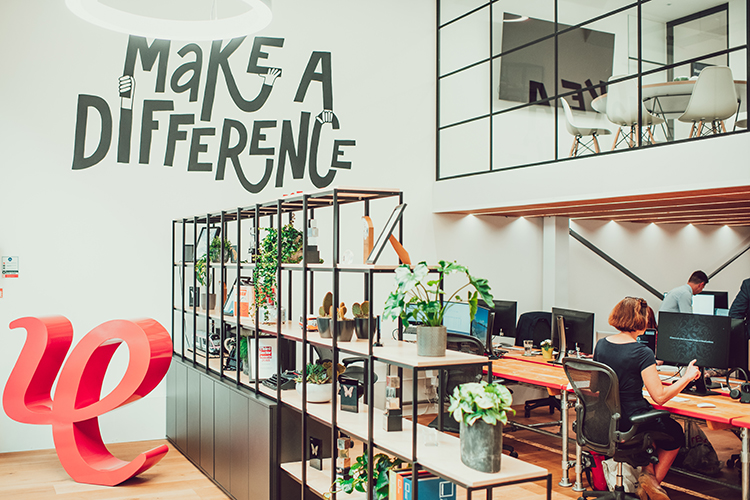 IE has always been something of a hidden gem in the Jewellery Quarter. We hope that our fabulous new studio will make us more visible and bring us closer to Birmingham's creative community.

Ollie Leggett
Managing Director, IE Brand and IE Digital