IE News
Creating IE's sustainable, eco-friendly studio
We've created a beautiful and inspiring new home in Birmingham's Jewellery Quarter, with sustainability in mind.
---

---
As part of IE's ongoing efforts to balance purpose with profit, our plans for the new studio have focused on sustainability.
We're working towards becoming a Certified B Corporation, and these new premises play a big part in achieving that. 
An inspiring studio that doesn't cost the earth
We've created our beautiful and inspiring new home in Birmingham's Jewellery Quarter. To minimise our carbon footprint and environmental impact, we've installed:
LED lighting throughout (some movement activated)
A 15 cm insulated slab beneath the engineered wooden floor
Triple-glazed windows 
Oodles of insulation
This all adds up to an excellent EPC rating. Of course, everything from our developers' PCs to the under-floor heating is powered by electricity from renewable sources. 
Other eco-friendly features include:
Carbon-neutral carpets
Felt acoustic panels made from recycled plastic bottles
Desks made from reclaimed scaffolding (brought from our previous premises)
Bicycle storage and shower room to encourage staff to walk, run or cycle into work.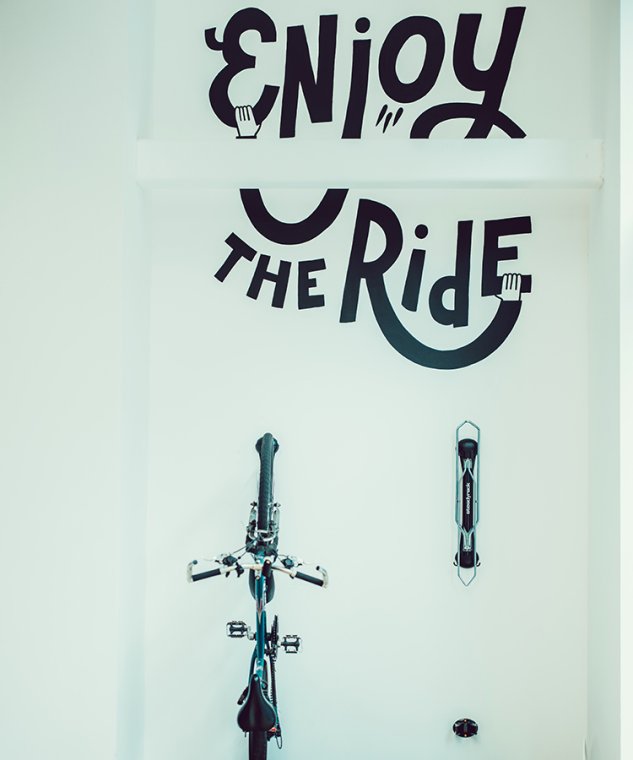 Bringing nature indoors
We've taken care to create a space that's beautiful and inspiring for our team and our clients. We installed a fabulous hanging plant gantry to bring a bit of nature indoors, so we now have over 200 plants in the studio, plus an entire wall of living reindeer moss and dried bun moss to help with the acoustics in the main meeting room.
We also bought 4 Briiv air purifiers to create safe, clean air. They use 100% natural and renewable materials like reindeer moss and coconut coir fibre. 
We've also commissioned local mural artist duo, Pickle, to decorate the studio walls with IE's mission statement: Make a Difference, Enjoy the Ride.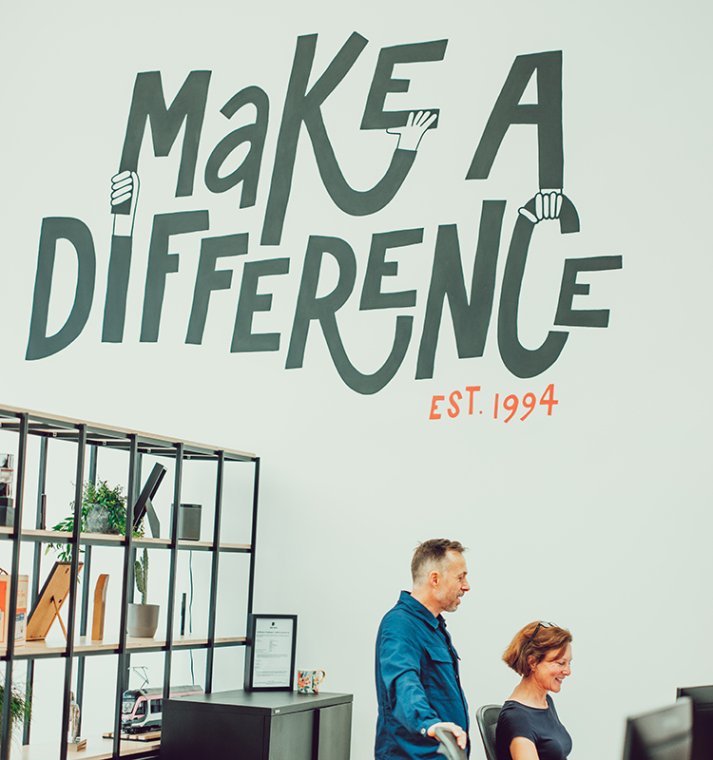 All in all, the ground floor occupies 1,600 sq ft, including the main workspace, tea station, toilets and storage. It's wheelchair accessible and includes an accessible toilet, which doubles as the shower room. As well as the main banks of desks we've added 3 standing workstations to offer more choice and comfort for the team. 
The first floor mezzanine provides a further 600 sq ft, including a kitchen and chillout room, plus 3 meeting rooms.
Reusing, regenerating
The studio building is part of the Kettleworks, a development within a key regeneration area of Birmingham. It reuses the original superstructure of a derelict factory, making the development highly sustainable. 
The studio is located inside Birmingham's Clean Air Zone. 
As part of our efforts to balance purpose with profit, our plans have focused on sustainability. We've taken care to create a space that's beautiful and inspiring for our team and our clients.

Ollie Leggett
Managing Director, IE Brand and IE Digital