IE News
IE Brand & Digital becomes a Certified B Corp
IE Brand & Digital has become a Certified B Corporation, joining a global community of values-driven businesses who are determined to measure and report on their social and environmental impact. We spoke to our MD Ollie Leggett about the decision to submit IE to such a rigorous assessment, and what it means for our clients and our team.
---

---
IE Brand & Digital has always been a values-driven business, just like the charity, health and education clients we serve. 
First and foremost, our clients choose us because we deliver great value and high impact work, and staff choose us because we pay fairly and have a reputation as a great place to work. But beneath these prosaic reasons, we're also chosen for our shared values as much as our expertise, and we're genuinely energised by our communal sense of purpose.

Our company-wide standups regularly begin with the team talking about the projects they're working on. But before they get into the detail, they're invited to remind us how the client makes a difference to the world and how the work that we're doing will increase that impact. For example, this week we heard from two team members working on the new Infopool website for Prostate Cancer Research. Both mentioned that their Dads have had prostate cancer and how much the new website – full of stories and information from people affected by prostate cancer – would have helped their families to better understand and cope.
We see our work as an agency as a force for good in the world. We partner with not-for-profit clients and work on projects that make a difference, while ensuring our people enjoy the ride. That's always been our mission.
But we decided it was no longer enough.
Ollie Leggett explains, "In the 25 years since we first declared IE's focus as a values driven agency, working exclusively for not-for-profits, it's ceased to be the differentiator it once was. We were a real rarity at the time. But more recently, there seems to be an agency around every corner making a similar claim. Many of them are fantastic, but it feels like some have just jumped on a bandwagon.
"We looked for an external certification to evidence beyond doubt that we really live our values at IE, in the hope that it will help our values driven clients to make an informed choice of agency partner."
Why B Corp?
The certification that impressed us the most was B Corp. Ollie commented, "The rigorous assessment process and high failure rate meant that achieving certification first time was far from guaranteed. It would be hard work and a genuine mark of quality if we were successful."
B Corp Certification tells you that a business has met high standards of verified performance, accountability, and transparency across five key impact areas:
Governance
Workers
Community
Environment
Customers
"I thought it would be a healthy exercise to subject the agency to such close scrutiny," says Ollie. "I particularly liked how holistic it is, addressing the entirety of our operations, rather than focusing on a single issue. It felt really exciting to work towards gaining a powerful credential to back up our values and mission."
There are around 1,100 B Corps in the UK, from huge corporations to micro-businesses. That's a tiny fraction of the 5.6 million businesses in the UK – a pretty exclusive club shared with brands like The Guardian, Patagonia, and Abel & Cole.
Ollie told us, "We wanted to be a part of that."
Becoming a B Corp
The median score for ordinary businesses who complete the assessment is currently 50.9. We're delighted that IE has confidently cleared the threshold score of 80 on our first audit, with an overall B Impact Score of 99.7. Not too shabby!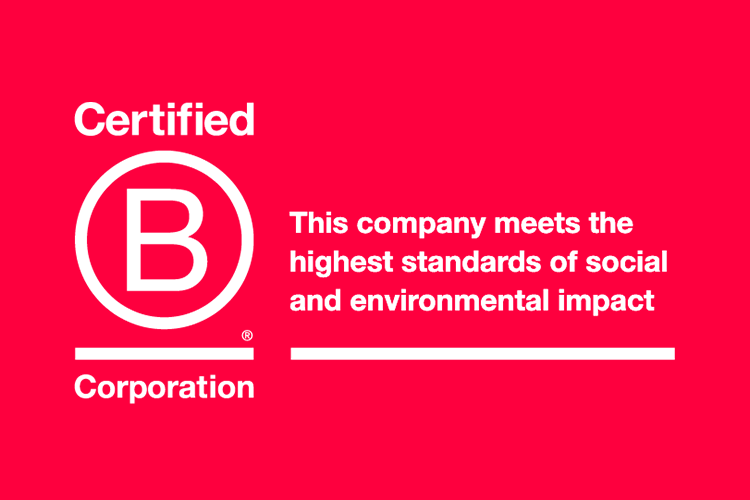 In order to become certified, IE has had to demonstrate social and environmental responsibility relating to areas such as energy, waste, water, worker compensation, diversity and corporate transparency.
Our score from B Lab – the not-for-profit behind the B Corp movement – also recognises IE's 'Impact Business Model'. This reflects how IE's brand and digital services improve the social impact of our clients, and through them support underserved and in need populations.
Chris Turner, Executive Director of B Lab UK, says "Being able to welcome IE Brand & Digital to the B Corp community is hugely exciting. Their commitment to doing business differently will be an inspiration to others and really help spread the idea that we can redefine success in business to be as much about people and planet as it is about profit".
Ongoing measurement and accountability
IE's B Corp profile now serves as a public record of our performance against B Lab's standards, as part of our ongoing commitment to transparency. We'll be reassessed regularly in order to recertify and must publish an annual impact report too.
Another part of the process was to legally embed our commitment to 'purpose beyond profit'. We formalised this in a change to IE's Articles of Association. These state that we commit to delivering a material and positive impact on a) society and b) the environment, and that we are accountable to all stakeholders (including employees, suppliers, clients and the community), not just shareholders.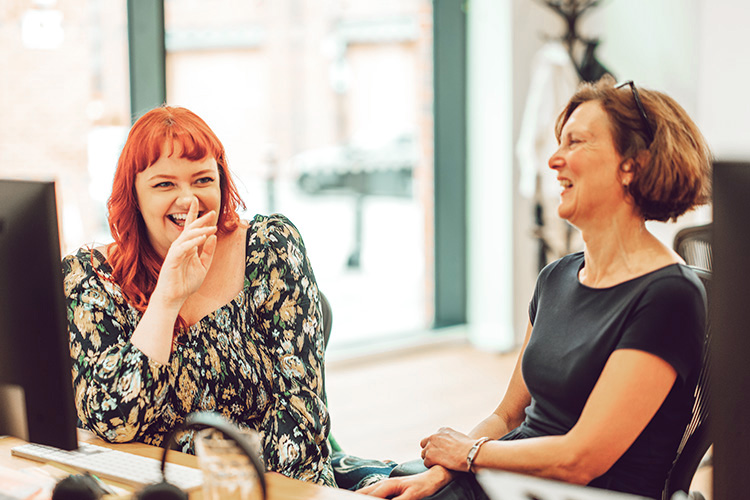 Continuing improvement
We're proud of our score, and the certification is a welcome confirmation of our hard work. But becoming a Certified B Corporation is only the beginning for IE. The challenge now is to maintain our good practices, and to keep improving.
One area we plan to focus on is improving how we evaluate client satisfaction and the impact of our projects. We've already made some changes by creating a new Client Relationship Manager role to act as a single point of contact across all projects.
We're really looking forward to meeting likeminded businesses from within the B Corp community and finding new partners and suppliers through our shared values. We're also keen to become more involved in our local community here in the Jewellery Quarter of Birmingham.
What next?
Ollie says, "We hope that prospective clients and employees will view our B Corp certification as a measure of integrity. That's how we'll continue to attract the very best people, and add to our amazing roster of clients. We want to be known and trusted as amongst the very best values-driven agencies, and we're determined to keep earning and evidencing that trust."
The rigorous assessment process and high failure rate meant that achieving B Corp certification first time was far from guaranteed. It felt really exciting to work towards gaining a powerful credential to back up our values and mission. We want to be known and trusted as amongst the very best values-driven agencies, and we're determined to keep earning and evidencing that trust."

Ollie Leggett
Managing Director, IE Brand & Digital