Charity, Health, Creative, IE News
Awards for outstanding charity and health rebrands, and a special team-member
The IE Brand team headed to London for the Transform Awards Europe recently. We came home with a trio of trophies for our client branding work for Clergy Support Trust and Resuscitation Council UK. Even better, one member of the team bagged a very special award of her own.
---

---
This year, we were shortlisted for 3 categories at the Transform Awards, with client rebranding projects. On top of that, we were very excited to see our Senior Designer Josie Evans named one of Transform's Young Contenders for 2021.
After the year we've all had through the Covid-19 pandemic, it was great to have a chance to let our hair down just a little bit and attend the awards dinner at the Leonardo Royal London St Paul's. Transform had done a great job of keeping the ceremony socially distanced and Covid-safe, and our table of 5 enjoyed the chance to celebrate our achievements together. 
And boy did we have something to celebrate? 
The Creative Young Contender of the Year
The Transform Young Contenders opened the evening. This award celebrates the young talent that's shaping the branding industry of tomorrow. 
It's judged by a panel of industry leaders, with entrants from right across Europe. The judges were looking for the brand creative and strategy professionals with the most potential as future leaders and standout talents. There were 6 nominees, with each awarded either a Merit, Distinction, or the overall Young Contender for their category – Strategy or Creative.
We were over the moon when our own Josie Evans was announced as the Creative Young Contender 2021.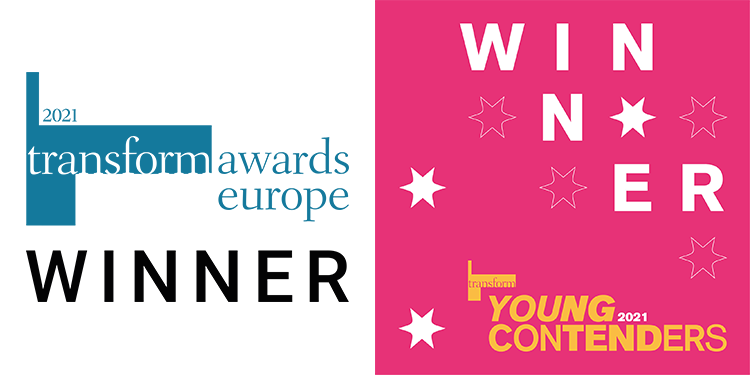 Inspiring the next generation of talent
Josie obviously impressed the judges with the exceptional quality and versatility of her portfolio. She's as skilled at designing visual identities and design for print, as she is turning wireframes into user-friendly digital designs. Over the course of her time at IE she's led the design for a range of charity, health and education clients – creating new logo marques, bespoke typefaces, art directing photoshoots, and creating dynamic, responsive brands. 
The judges also specifically commented on Josie's enthusiasm for supporting and inspiring the next generation of talent. She's always keen to work with design students, whether it's to give feedback on a portfolio, showing someone the ropes on a work experience placement, or chatting to aspiring designers at a careers fairs.
IE's Creative Director and Brand Consultant, David Crichton, commented, "Josie is amongst the most talented, energetic and dedicated designers I've had the pleasure of working with over my twenty-year career. If the future of the design industry is led by people like Josie, the industry is in very good hands indeed." 
Award-winning visual identities and naming strategies
The Publisher of Transform Magazine, Andrew Thomas, then announced the winners for the main Transform Awards categories. 
The rebranding of Sons and Friends of the Clergy to Clergy Support Trust picked up two awards. In the strategy categories, the grant-giving charity won Bronze for Best Naming Strategy.
Then the awards for Best Visual Identity were named, with Clergy Support Trust receiving Silver for Best Visual Identity from a Charity, NGO or Not-for-profit. We were delighted to have Nick Gazard, Marketing and Communiucations Manager (below left) for the charity with us on the night to celebrate his double win. 
And last but not least, our work to rebrand Resuscitation Council UK was awarded Bronze for Best Visual Identity from Healthcare and Pharmaceuticals.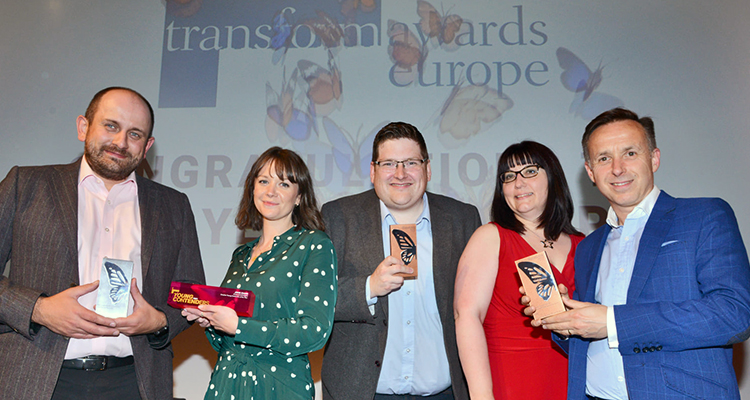 Branding that brings results
Thank you so much to the Transform Awards judges for recognising our work alongside many other brilliant brands. At the heart of every one of IE Brand's award entries were not just creativity but also robust stakeholder research, insightful strategies and, above all, impact.
Check out the full case studies for Clergy Support Trust and Resuscitation Council UK, to see what makes them award-winning. 
When I founded IE back in 1994, my ambition was to give values-driven businesses access to the industry's finest creatives. This is yet more evidence that we are continuing to do exactly that.

Ollie Leggett
Managing Director, IE Brand & IE Digital