Warrington and Vale Royal College
Warrington and Vale Royal College
Client
Warrington & Vale Royal College
Services
Research
Messaging and Tone of Voice
Brand guidelines
Website
Visual identity & logo design
Following the planned merger of two post-16 Further Education colleges, IE Brand was called in to create a confident new brand and visual identity for the new college, and IE Digital to refresh the website.
The vibrant new brand identity cements the two organisations, supports the new college's ambition to become the first-choice provider of Further Education in the region, and inspires the proud ownership of staff, students and governors.
The project included creating a sister brand for Warrington & Vale Royal Sixth, based on the parent identity, aimed at A-Level students.
Image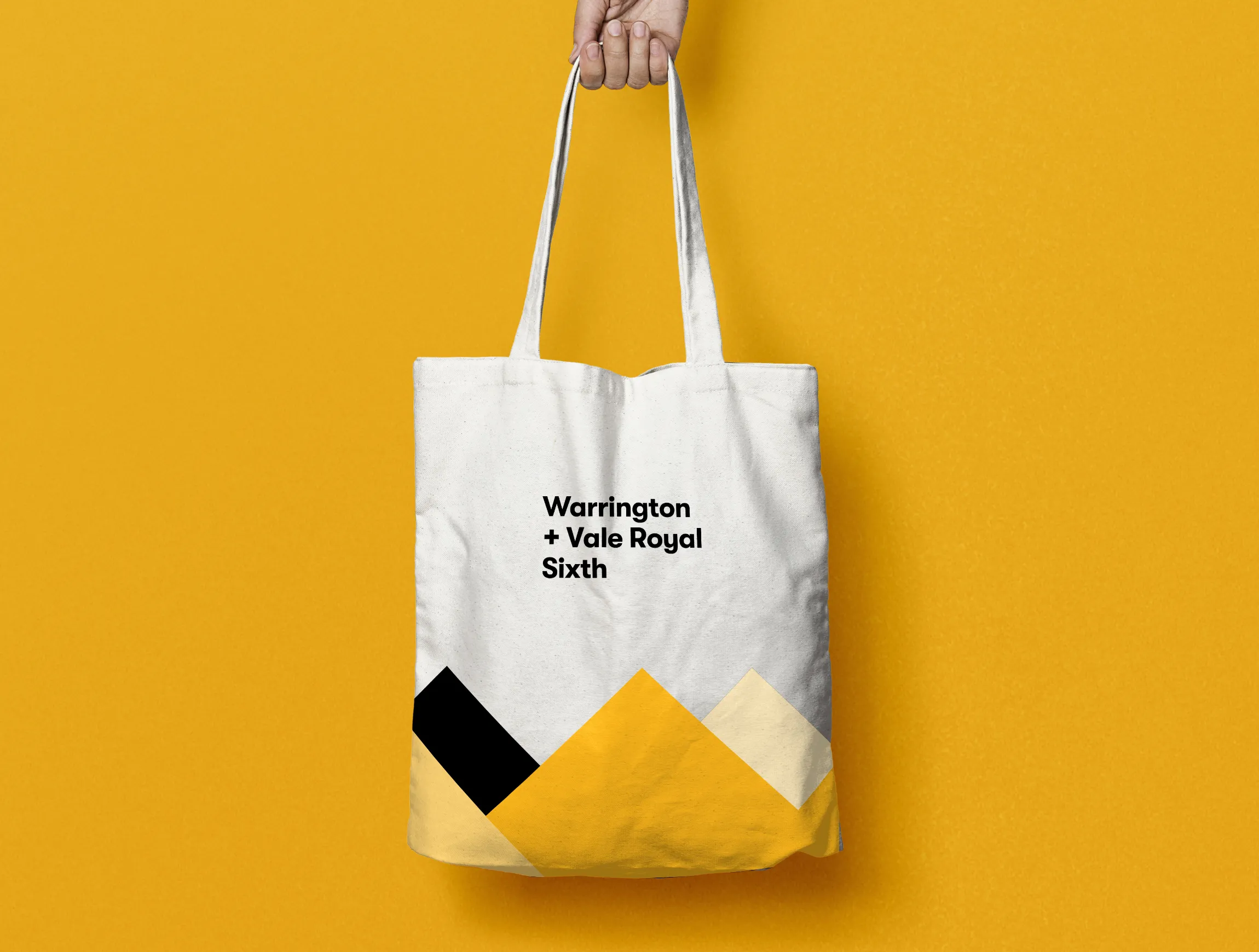 Image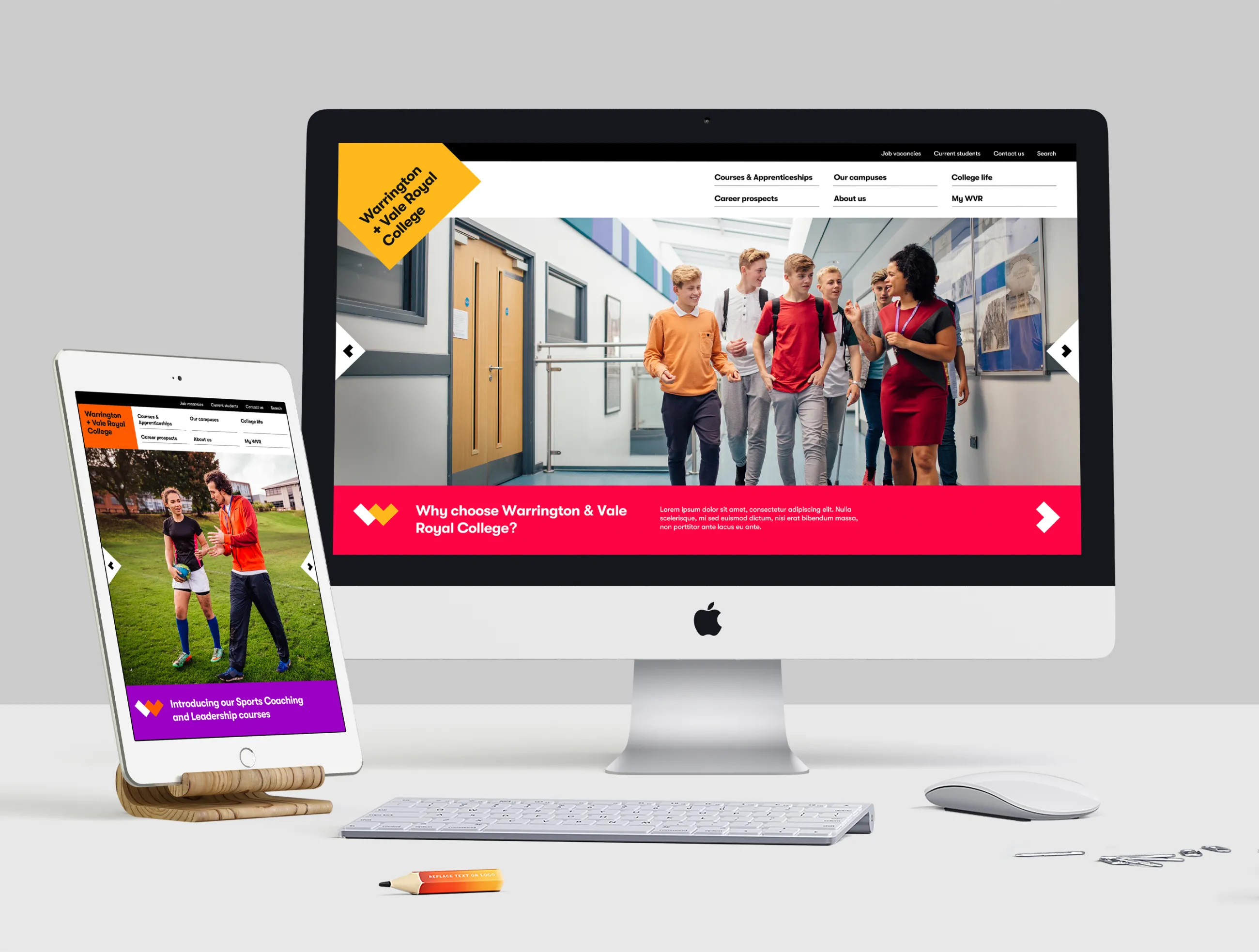 Listen
Merging two brands
When a high performing, dominant college merges with another, reputations are at stake. It's crucial to ensure all stakeholders have been listened to, and that they are invested in the success of the new brand.
IE Brand ran a series of stakeholder perceptions workshops with representatives from both Warrington Collegiate (ranked 8th in the country) and Mid Cheshire College. We looked at what made each college distinctive, where there were commonalities and potential synergies. We also looked at student profile, past success, and future hopes for the new brand.
Image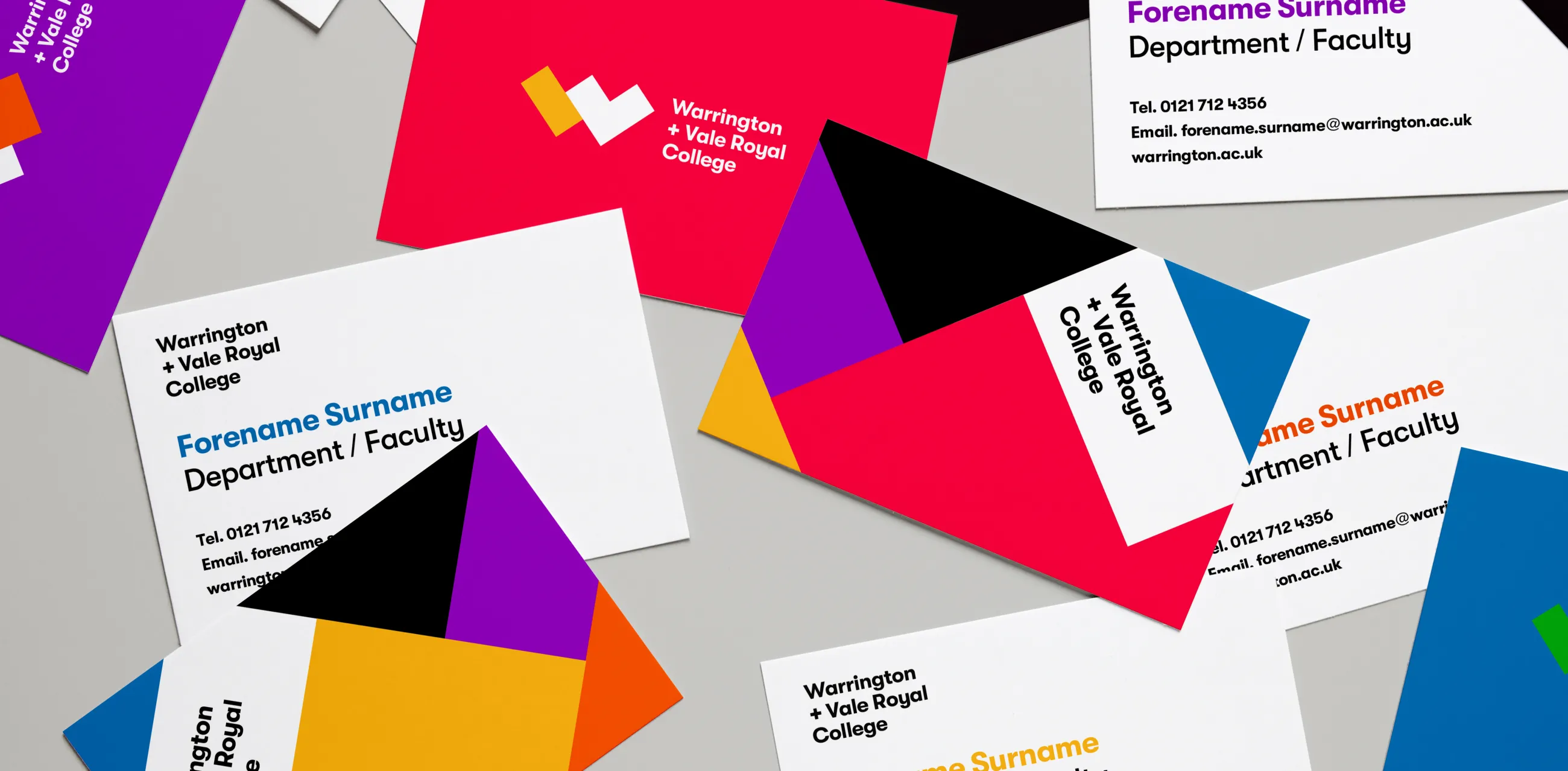 Advise
Naming and stakeholder engagement
IE unearthed, proposed and advised on multiple naming solutions. The final solution, Warrington and Vale Royal College, was initially rejected by the Royal Names Team at the Cabinet Office, only to be approved on appeal.
Stakeholder workshops revealed that, in combining these two post-16 Further Education colleges, Warrington & Vale Royal College (WVRC) hoped to break the FE mould by offering something truly different in the North Cheshire region. WVRC is fully inclusive and open to all, catering for A-Level students, vocational students and adult learners from all backgrounds and abilities. They focus on getting students work-ready and forging strong relationships with the best employers in the region.
Image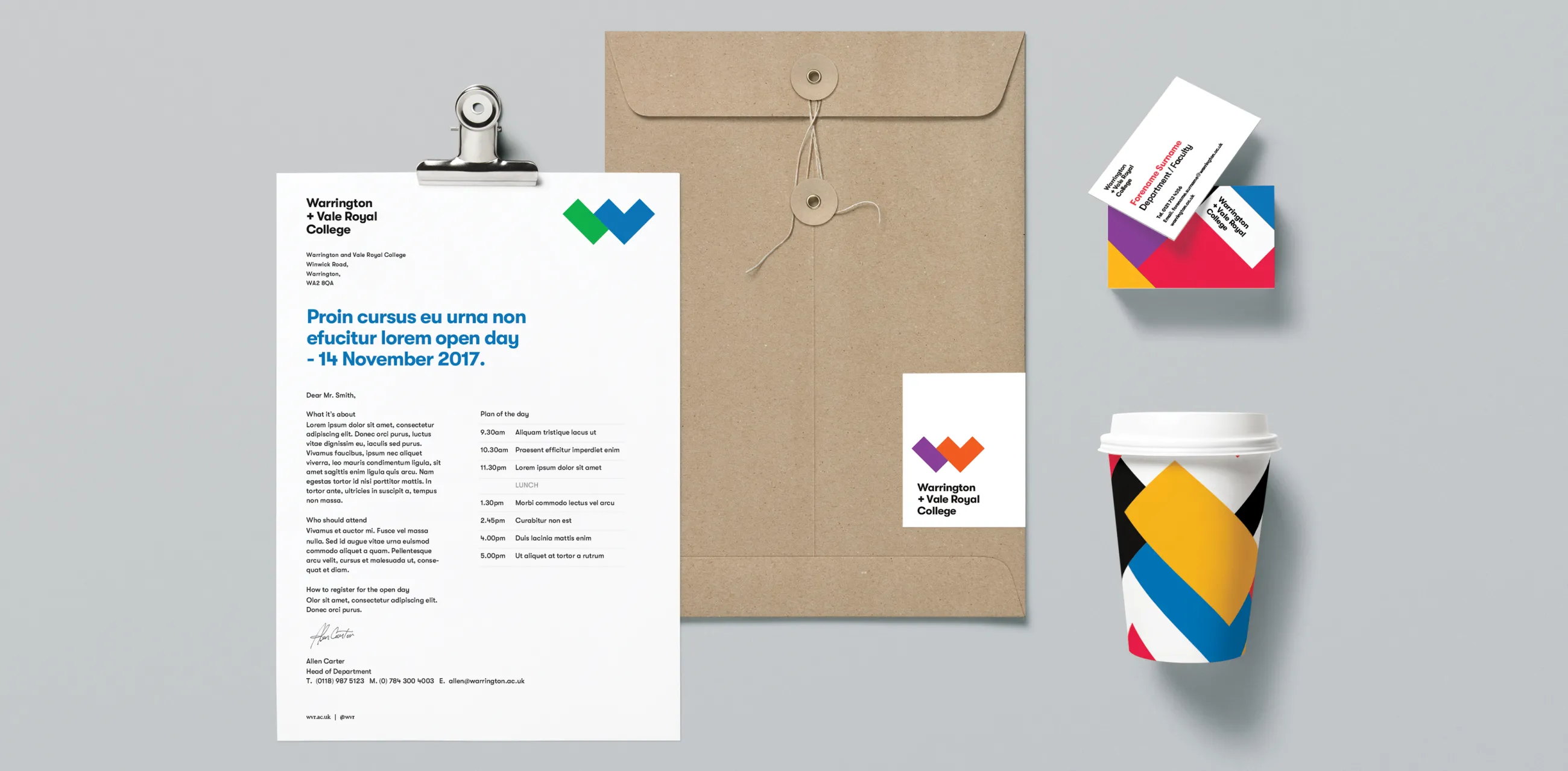 Deliver
Brand messaging & visual identity
IE Brand led the college in a co-creation workshop to unearth the brand's personality and messaging, and agree a set of success criteria for the visual identity.
WVRC wanted the new brand identity to reflect a college that 'takes you places' and changes lives, exuding ambition and success; confidence and pride; passion and energy.
Based on this workshop, IE Brand created a Messaging Matrix to guide the internal comms team and others within the college, as well as external agency partners. The matrix defines the college's tone of voice – full of energy and passion – and key messaging for each of their audiences: A-Level students, vocational students and adult learners, parents and employers. All comms are designed to excite the reader about the next step in shaping their life and career.
With the brand's success criteria agreed, the IE Brand design team collaborated to create a new visual identity that is confident, colourful, bold and brave...with an edge. We created a blocky logo using the initials "W" and "V" in a bright colour palette – set against Midnight Black. To create interesting, dynamic and energetic visuals, the logo marque is used as the basis of bold and beautiful background elements – used as holding devices for messaging and photography or simply to enhance the look and feel of print and digital collateral.
Sub-Brands and Campus Identifiers
The new sister brand for Warrington & Vale Royal Sixth closely resembles the college, but with a focus on messaging relevant to A-Level students. Warrington & Vale Royal Sixth combines the very best of vocational and academic learning, so IE differentiated the sub-brand to communicate an added gravitas, evidence the college's academic credentials, and showcase their cutting edge facilities.
Finally, we created a mechanism for attaching identifiers to the core WVRC marque, to represent the different campuses at Hartford, Warrington and Winsford.
Image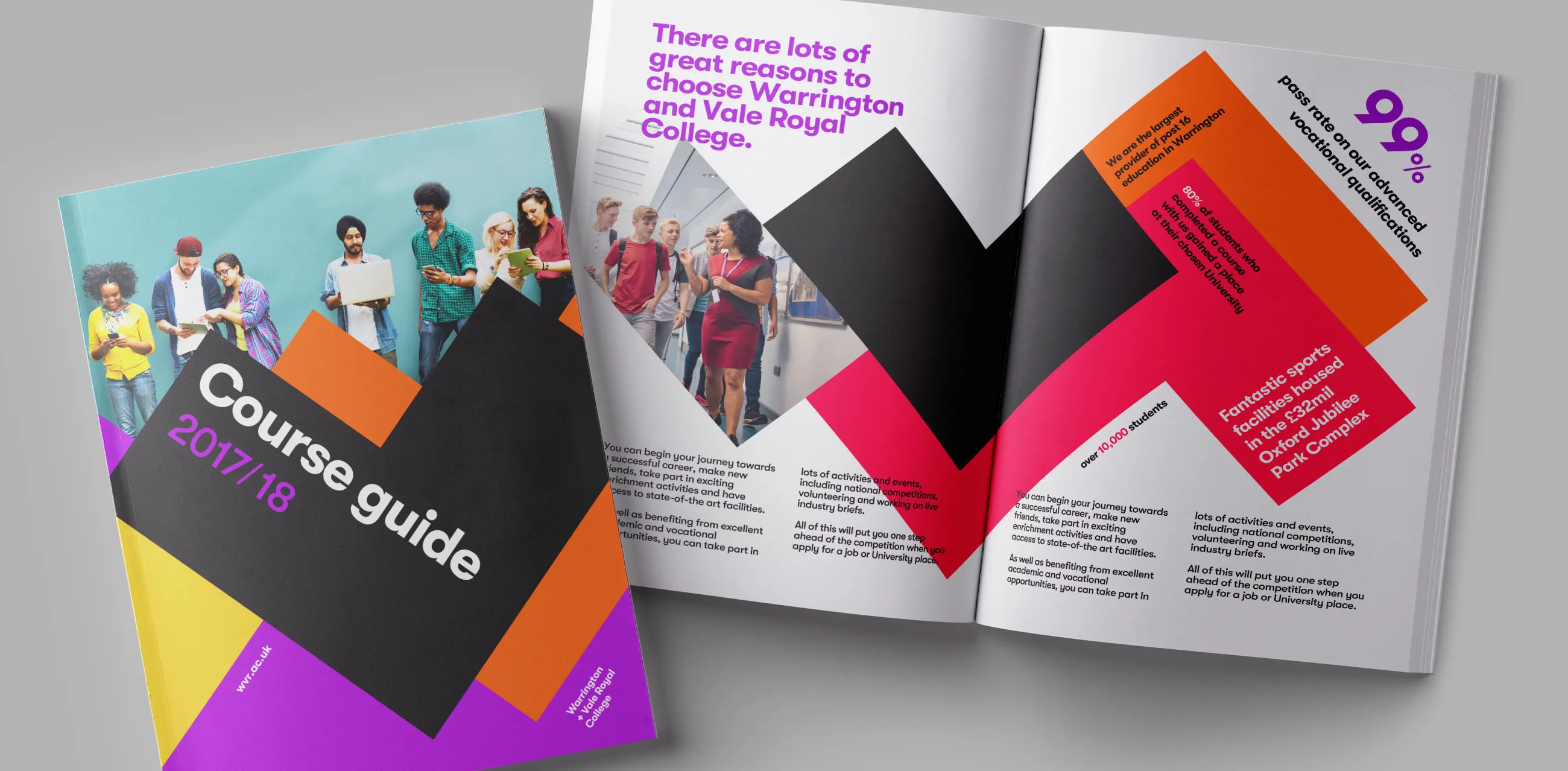 Support
Guidelines, templates and website
IE created a brand book/brand guidelines to protect the college's investment in the new brand, and provided a set of packaged template files for presentations, newsletters, stationery and a course guide.
The IE Digital team were also commissioned to scrutinise and improve the college's existing Wordpress website. We redesigned and redeveloped the User Experience to smooth the navigation and prioritise the college's key audiences and objectives.
2 disparate colleges successfully merged to create Warrington & Royal Vale College
1 sixth form college sub-brand
1st choice – the new college's ambition was to become the preferred FE provider in the region