UCCF: The Christian Unions
UCCF: The Christian Unions
Client
UCCF: The Christian Unions
Services
Stakeholder engagement
Brand architecture
Visual identity & logo design
Campaigns
User Experience
Industry
Charity
Christian charities
Education
Universities and HE
UCCF: The Christian Unions needed to refresh its visual identity to appeal to its core audience of Christian students, whilst preserving its 100-year-old heritage for existing supporters.
Christian Unions are student-led mission teams that operate at the heart of university and college campuses – students reaching students with the good news of Jesus. UCCF: The Christian Unions supports student leaders in this work.
IE Brand simplified UCCF's brand architecture and created a flexible visual identity with a dynamic new logo. With the Coronavirus pandemic affecting how new students experienced university, we also developed an integrated, digital-first campaign to help UCCF reach out to their audiences in new ways, including their first social media advertising across Facebook and TikTok.
Image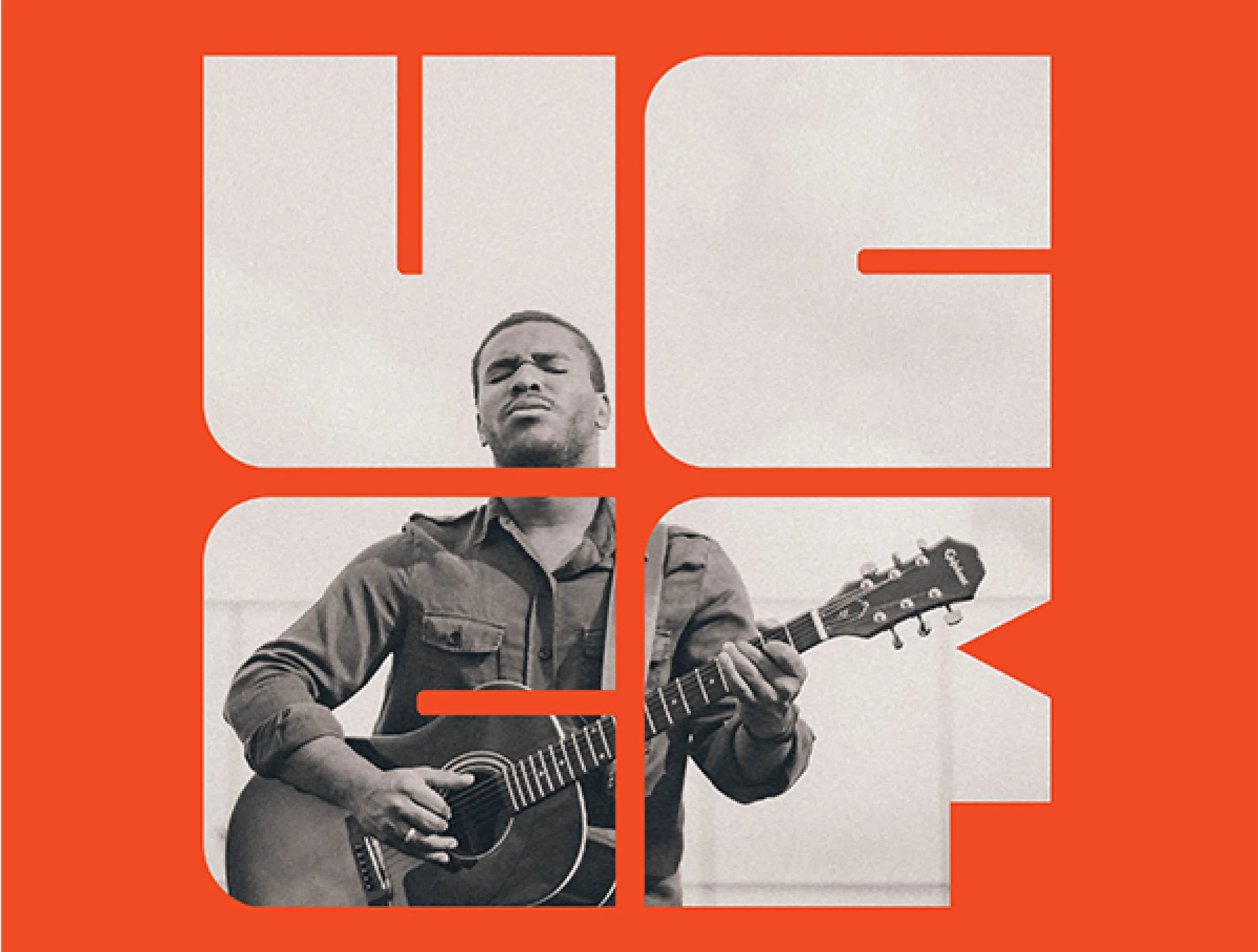 Image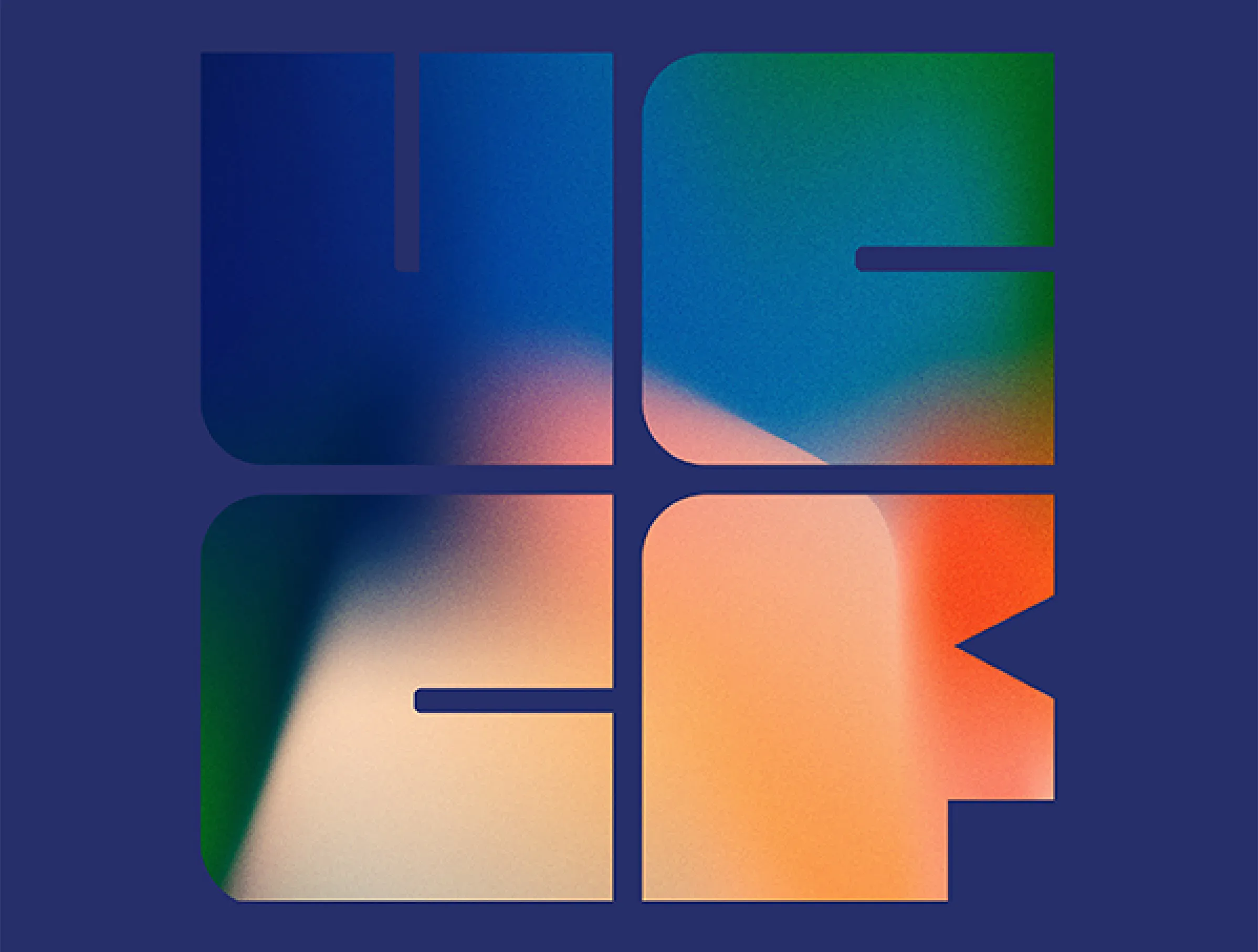 Listen
Immersion and stakeholder engagement
UCCF asked IE Brand to create a flexible new visual identity to reflect a more confident, digital-first organisation.
They had some big projects on the horizon, so they had decided on a brand refresh to bring the visual identity up-to-date before also commissioning a new website. At the time their visual identity hadn't changed in over a decade. The look was very '90s' and, as a result, staff had become reluctant to apply the brand to key resources, for fear that students wouldn't use them. The brand had been diluted by adding various new sub-brands and that, along with a proliferation of profiles across multiple digital channels, had led to inconsistencies in the application of the brand.
The brand consultants at IE Brand began by immersing themselves in the UCCF brand and held an internal stakeholder workshop to ask a series of 'big questions'. This helped our brand consultants to understand the charity and the audiences we needed to reach. Most predictably, this means Christian students at all stages, from starters and freshers through to leaders and graduates. But it also includes supporters, parents & grandparents, church leaders, student workers, non-Christian students, academics, staff & former staff, as well as student unions and the NUS.
We also explored the relationship between the parent brand and its five sub-brands, before exploring how to strengthen and reposition UCCF to ensure future brand engagement.
Image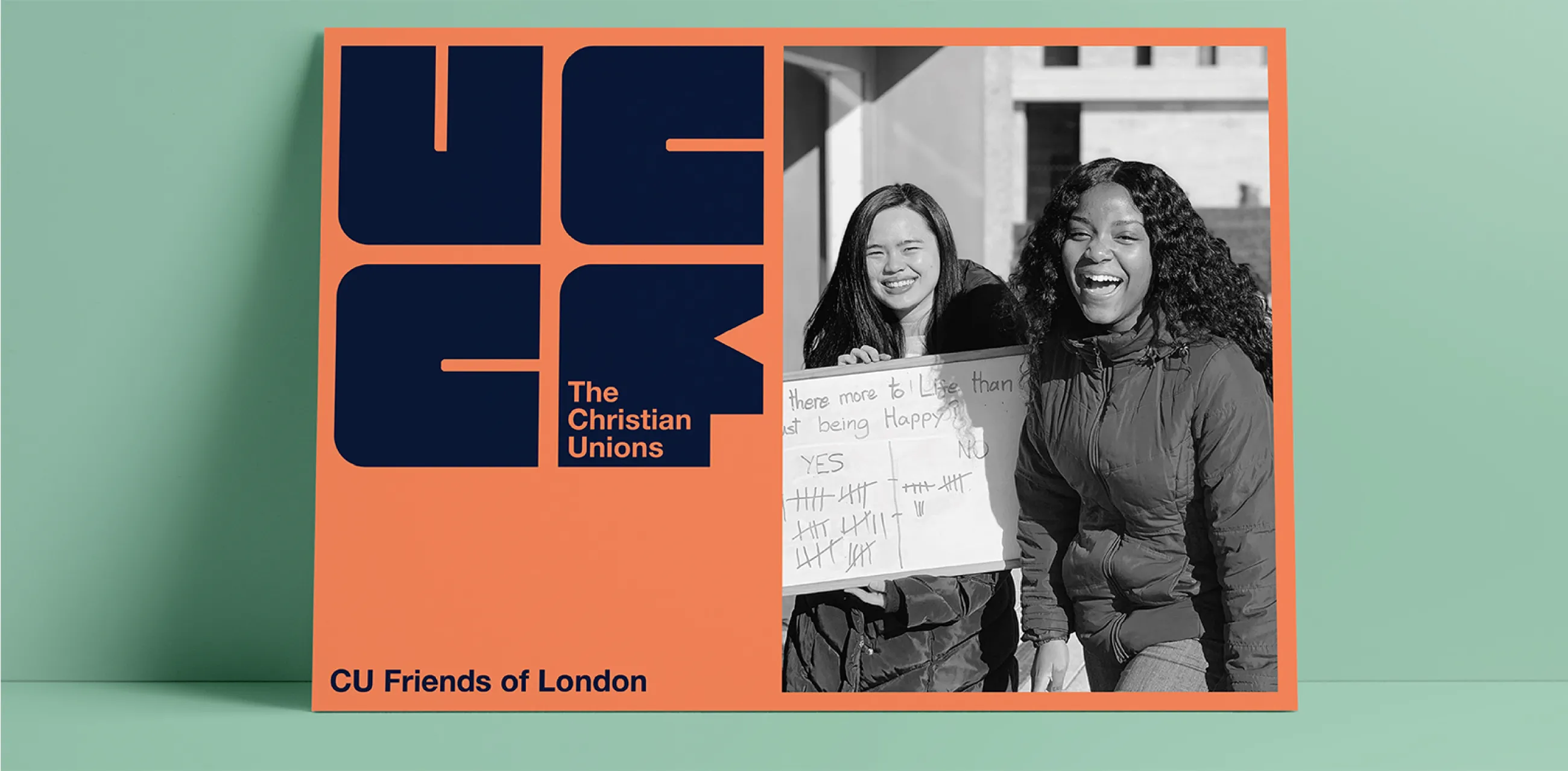 We presented IE with a specific brief to refresh our visual identity, leading with digital. They handled with ease the complexity of appealing to multiple, diverse stakeholders and preserving our 100-year-old heritage. We appreciated how well they listened to our needs and feedback – and the end result is excellent.
Kate Duncan, Head of Development & Communications, UCCF: The Christian Unions
Image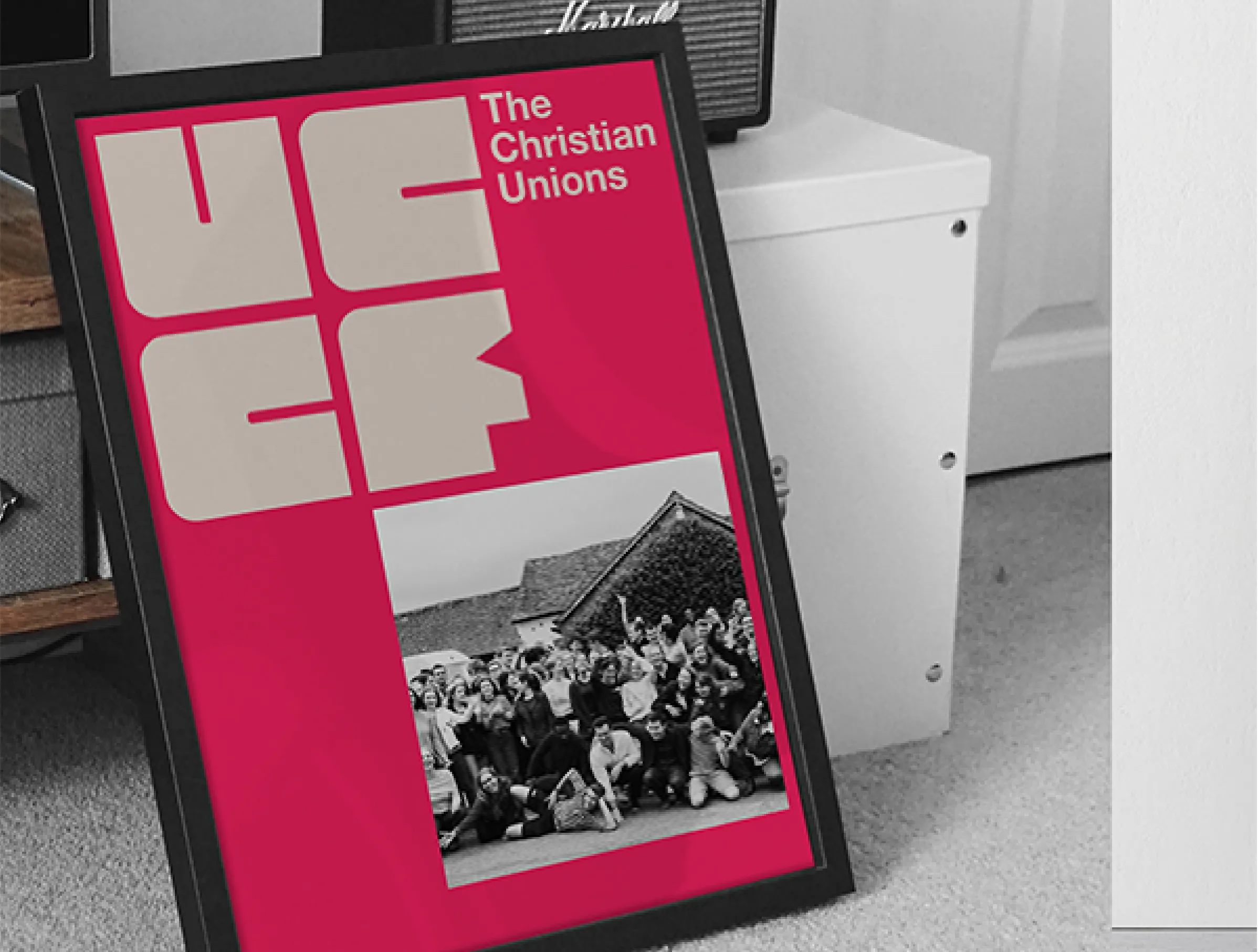 Image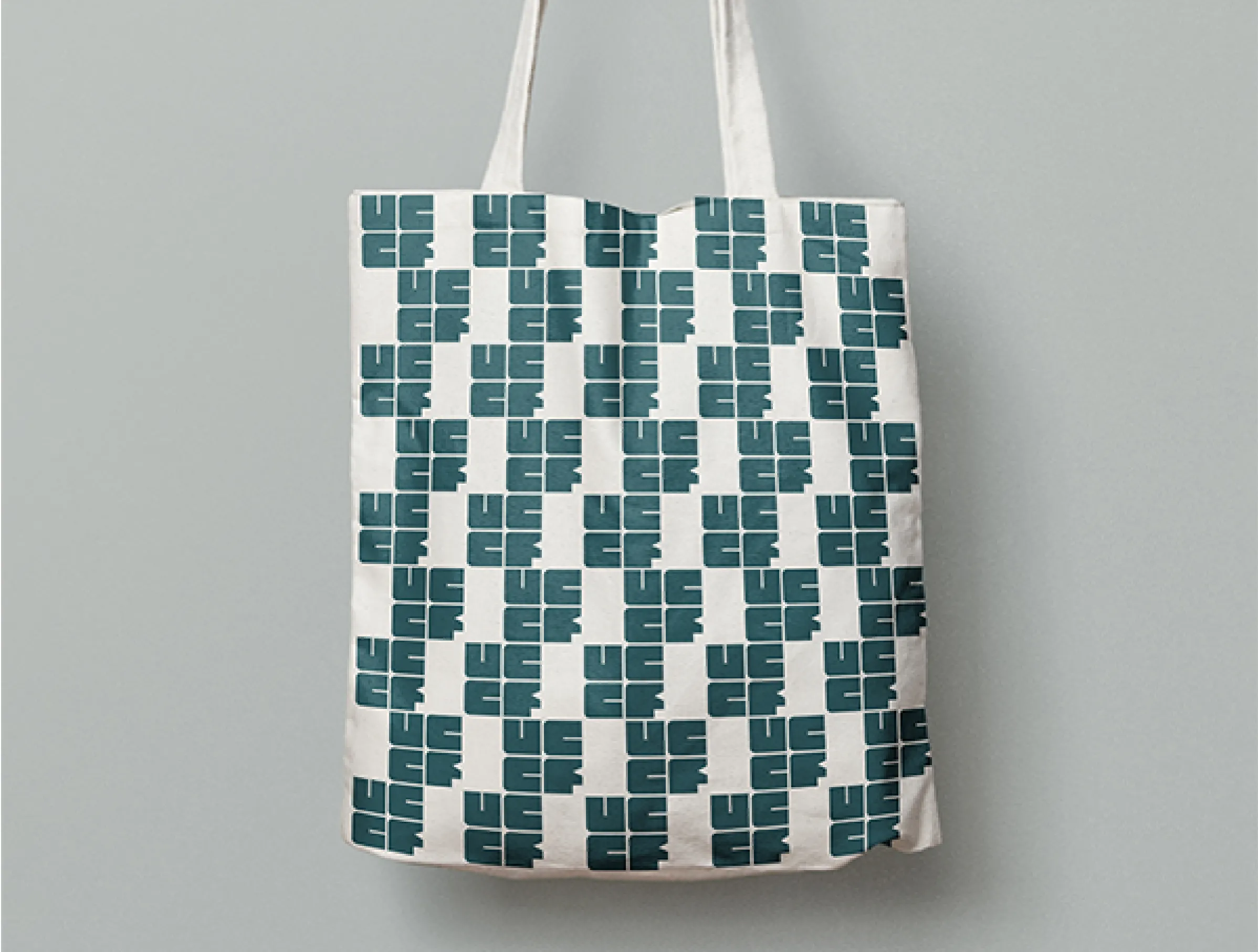 Advise
Creating a success criteria design brief
Based on our research, we co-created a Success Criteria Design Brief to guide the creative process.
UCCF needed a new visual identity that would work as well online as offline, including a 'responsive' logo/marque that would reorientate itself across different screen sizes. To simplify their brand architecture, UCCF agreed to eliminate all separate sub-brand logos and instead use name styles to apply the core identity across programmes such as Forum, Relay, and Leadership Network.
The new UCCF brand needed to look youthful enough to appeal to students, but without creating something so 'now' that it would quickly date. The old visual identity had tended to look too childlike at times, whereas the refresh needed to appeal to undergraduates – youthful, playful, fresh and diverse. It also needed to be flexible enough to communicate UCCF's heritage and credibility for older audiences, with a clean, stripped back and sophisticated design.
Image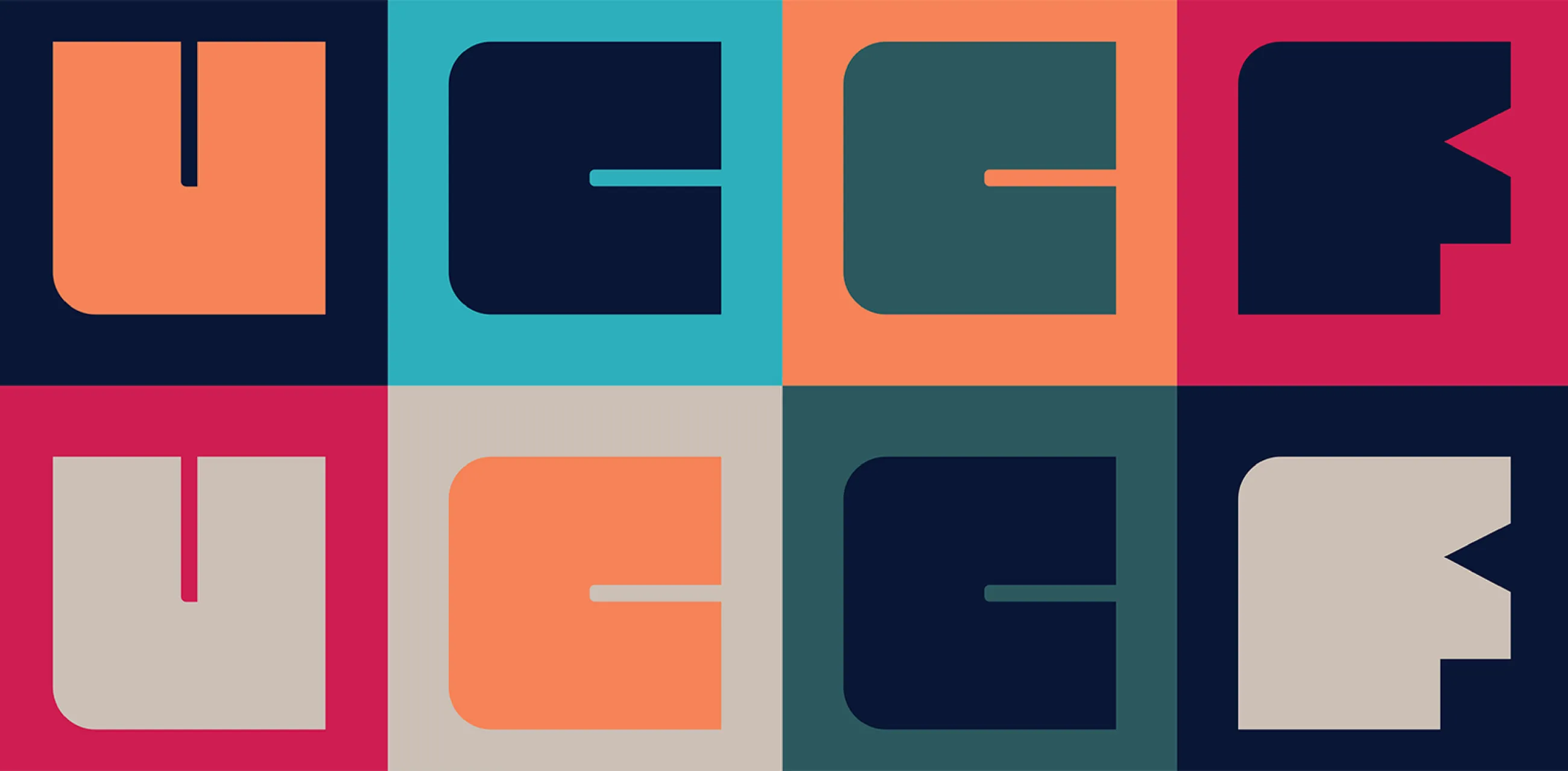 Image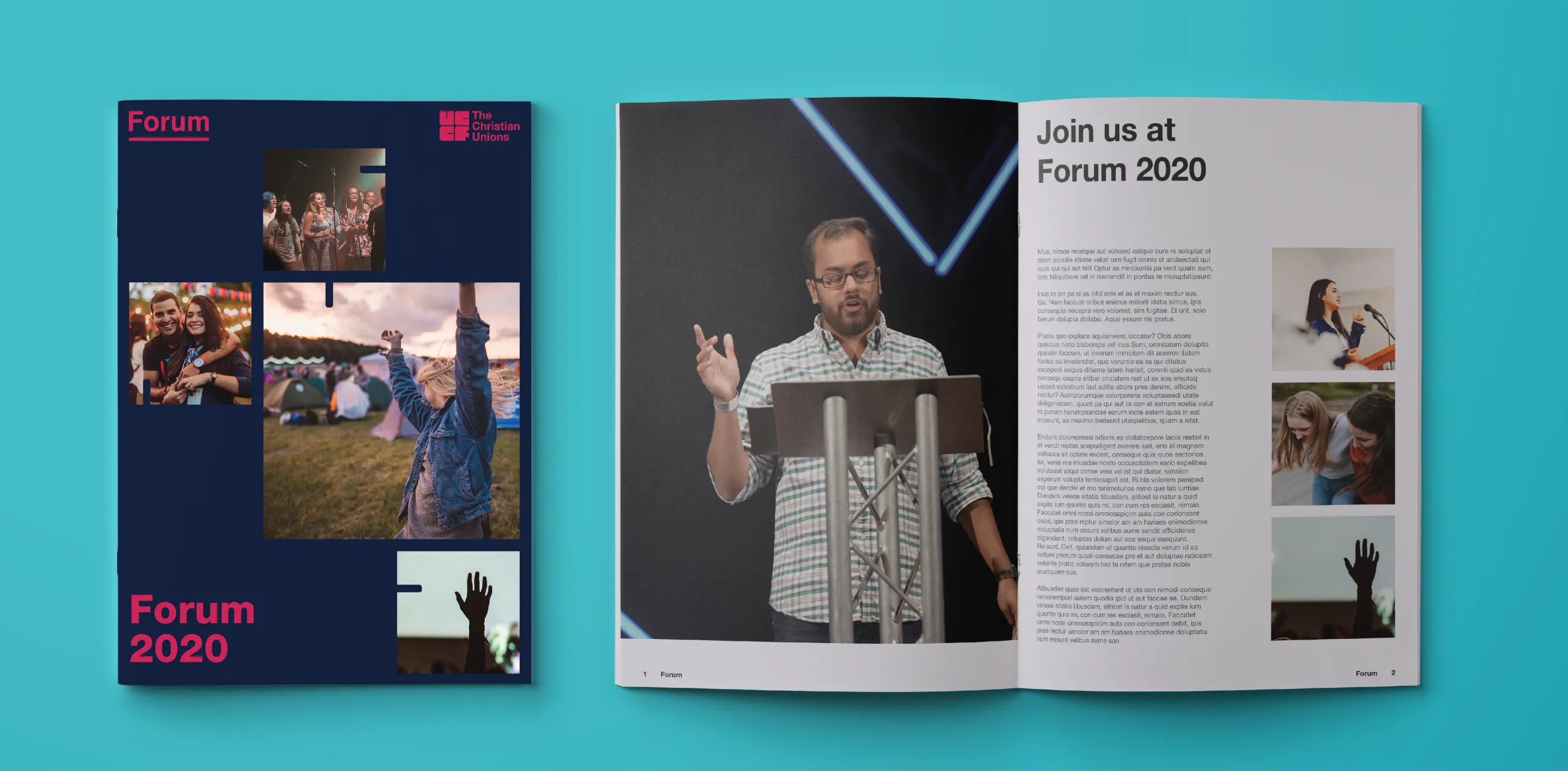 Deliver
Creating and launching the new brand
IE's brand designers then set to work to create a dynamic and distinctive new visual identity, in line with the agreed Success Criteria.
Designing a dynamic, responsive logo
As part of the design process, we explored whether the initialism 'UCCF' and the words 'The Christian Unions' should continue to be given equal weight, or whether 'The Christian Unions' could be given more prominence. In the final design, the relationship between the two is not fixed, as the dynamic logo moves and flexes according to the application and the space available. The UCCF initials can be used as a window for reportage-style photography to give the brand an authentic 'human' face, or as a platform for illustrations.
The new logo also animates beautifully on digital platforms.
Completing the visual identity
UCCF is now a bold, multicoloured brand, with a palette ranging from bright and bold colours such as raspberry, aqua and terracotta, to more muted tones of navy, deep teal and stone. By combining these colours in different ways, the brand can flex from fun and exciting to more serious and sophisticated.
The new visual identity retains the essence of UCCF. It's still the same 100-year old organisation some audiences will have known all their life, but now reflects a sense of renewed organisational clarity and confidence. Overall, the visual identity reflects UCCF's personality as visionary but theologically safe, engaging and approachable, passionate and trustworthy.
Lockdown launch campaign
For the new academic year in autumn 2020, things would be very different to a normal year due to the Coronavirus pandemic. There would be limited opportunities for UCCF to have a physical presence at Freshers' Weeks and other events, so they also needed a digital-first launch campaign to help them connect with new university students through virtual events.
IE Brand developed the campaign messaging and identity and created the ads, joining forces with a specialist social media agency partner to execute the campaign and optimise adspend. The integrated campaign ran for four weeks across Facebook, TikTok, posters and postcards. It was designed to welcome students to university and give practical support on making friends and settling into a new city while opportunities to socialise were limited.
As this was to be UCCF's first paid social media campaign, it was as much about learning for the future as well as immediate results. The campaign was designed to drive students to the UCCF website and use the 'Find your uni' tool to locate their local Christian Union and get involved. We took a low-risk approach, focusing the majority of the budget on the more tried-and-tested Facebook ads, which netted a conversion rate (CVR) of 6.77%.
We also 'dipped a toe in the water' with a modest spend on TikTok advertising. The platform demonstrated strong results and proved its relevance as a platform for reaching students, and delivered some valuable insights. The TikTok ads overachieved on expected results and, with just a quarter of the budget used for Facebook, drove three times more clicks from a similar reach. With this campaign as a benchmark, UCCF can now finesse their approach to paid social campaigns for the future.
Image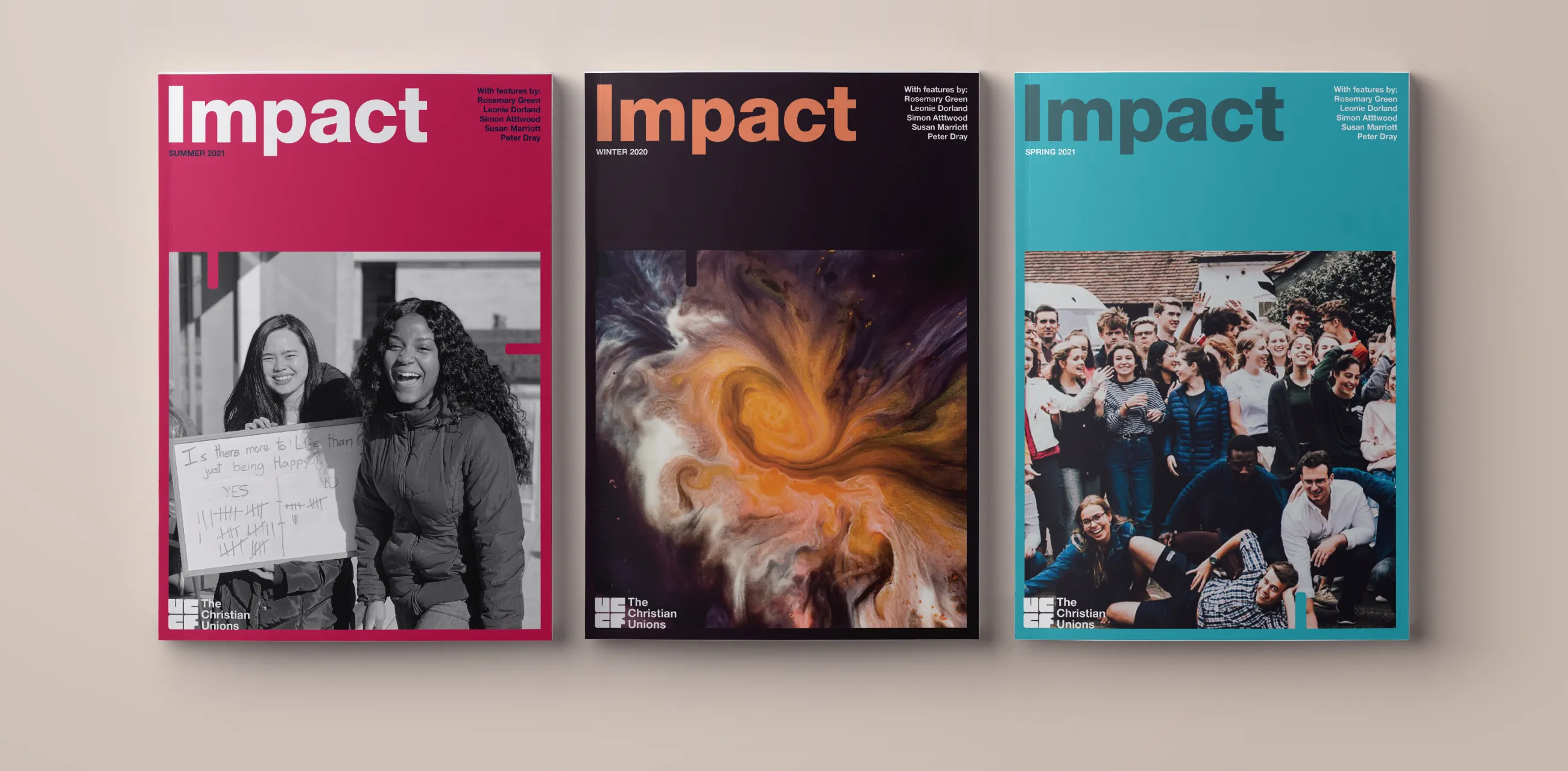 We are very much up and running with the new website and visual identity. We are receiving lots of very positive feedback from staff and students on all aspects, both design and functionality. So far it has been a huge success, so many thanks for your work on it all.
Tim Rudge, Field Director, UCCF: The Christian Unions
Image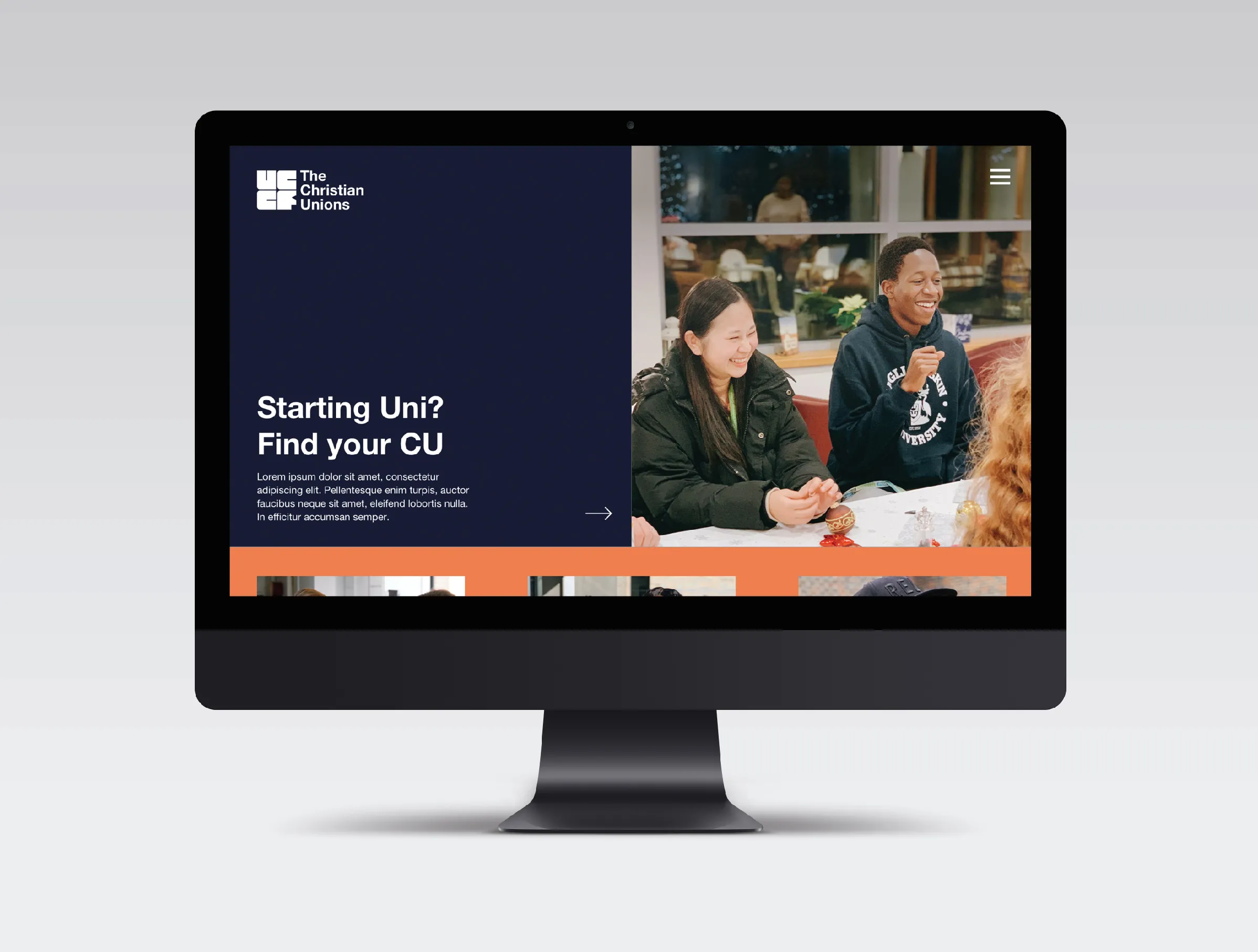 Image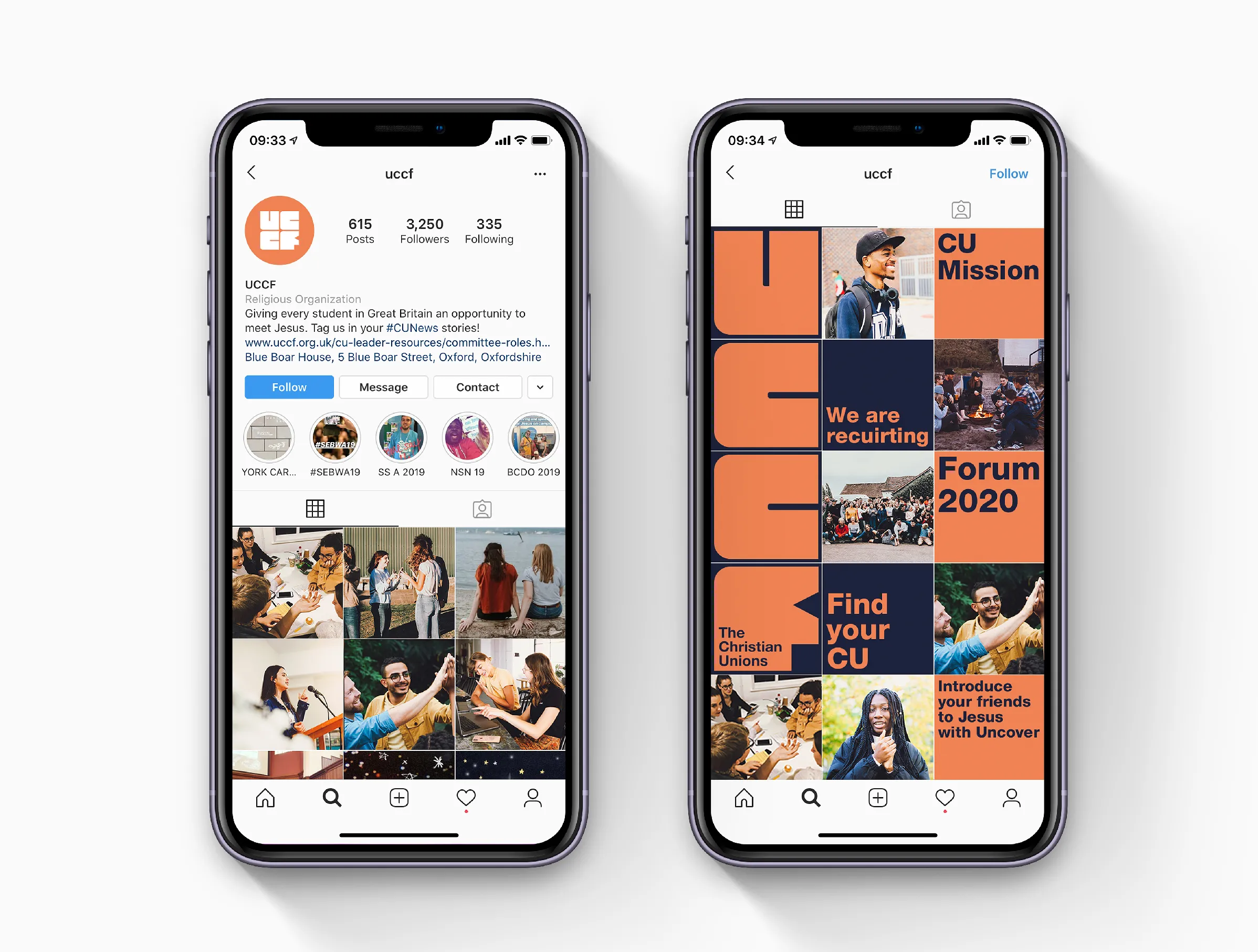 Support
Online and offline roll-out
IE Brand created new brand guidelines and a package of on-brand templates protect the new UCCF brand and support the consistent roll-out of a wealth of branded communications, beyond the initial launch.
With the new visual identity in place, UCCF also needed a new website. IE delivered digital consultancy and created the overall user experience and user interface design for the site, before handing over to UCCF's in-house development team who completed the build.
3,497 people watched the campaign video in full
6.77% Facebook ad conversion rate (CVR) to click 'Find your Uni'
80% increase in website page views after the rebrand