University College of Osteopathy
University College of Osteopathy
Client
University College of Osteopathy
Services
Research
Renaming
Brand positioning
Visual identity
Website
Industry
Charity
Health charities
Health
Other healthcare
Education
Universities and HE
A top level rename and rebrand for the British School of Osteopathy, to celebrate the institution's centenary and its new University College status. The launch of two new websites – for the College and the Clinic – and a new prospectus.
The University College of Osteopathy is the only degree-awarding osteopathic institution in Europe. Its osteopathy clinic – the UK's largest – offers accessible and affordable healthcare for all, and is informed by the latest clinical research.
Image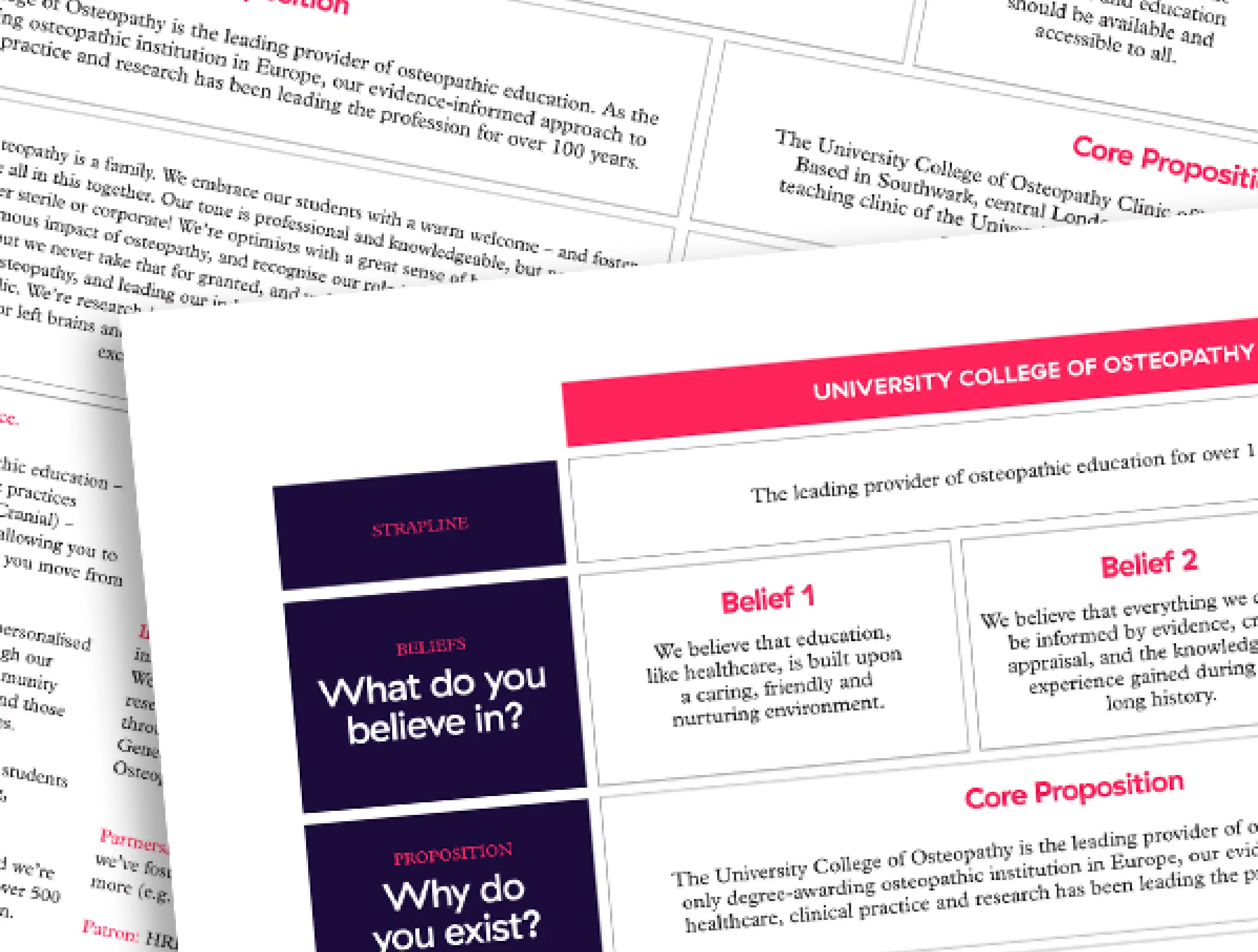 Image
Listen
Stakeholder research and brand audit
Having been granted Taught Degree Awarding Powers (TDAP) and University College status, The British School of Osteopathy needed a new name to reflect that change.
They also recognised that this was an opportunity to overhaul their very dated online presence, and with their centenary year on the horizon, it seemed the perfect time for a full rebrand. BSO went out to tender for an agency partner and selected IE to help them through the process of both rebranding and the design and build of a new website.
IE's brand consultants began with a listening exercise, including:
An internal stakeholder workshop with partners and staff
Qualitative telephone interviews with students, supported by a wider online survey
Qualitative telephone interviews with patients of the clinic
Brand audit and immersion.
Through this process we explored current internal and external perceptions of the institution and explored key audience aspirations around the future articulation of a repositioned brand. This process included gaining views on a range of naming options and the brand's existing messaging, visual identity and website.
See Charles Hunt, Vice Chancellor at the UCO, speaking about the rebranding process they went through, and the importance of stakeholder engagement throughout. Filmed at the CASE Europe Annual Conference 2017, where Charles spoke alongside IE's MD and Brand Consultant, Ollie Leggett.
Image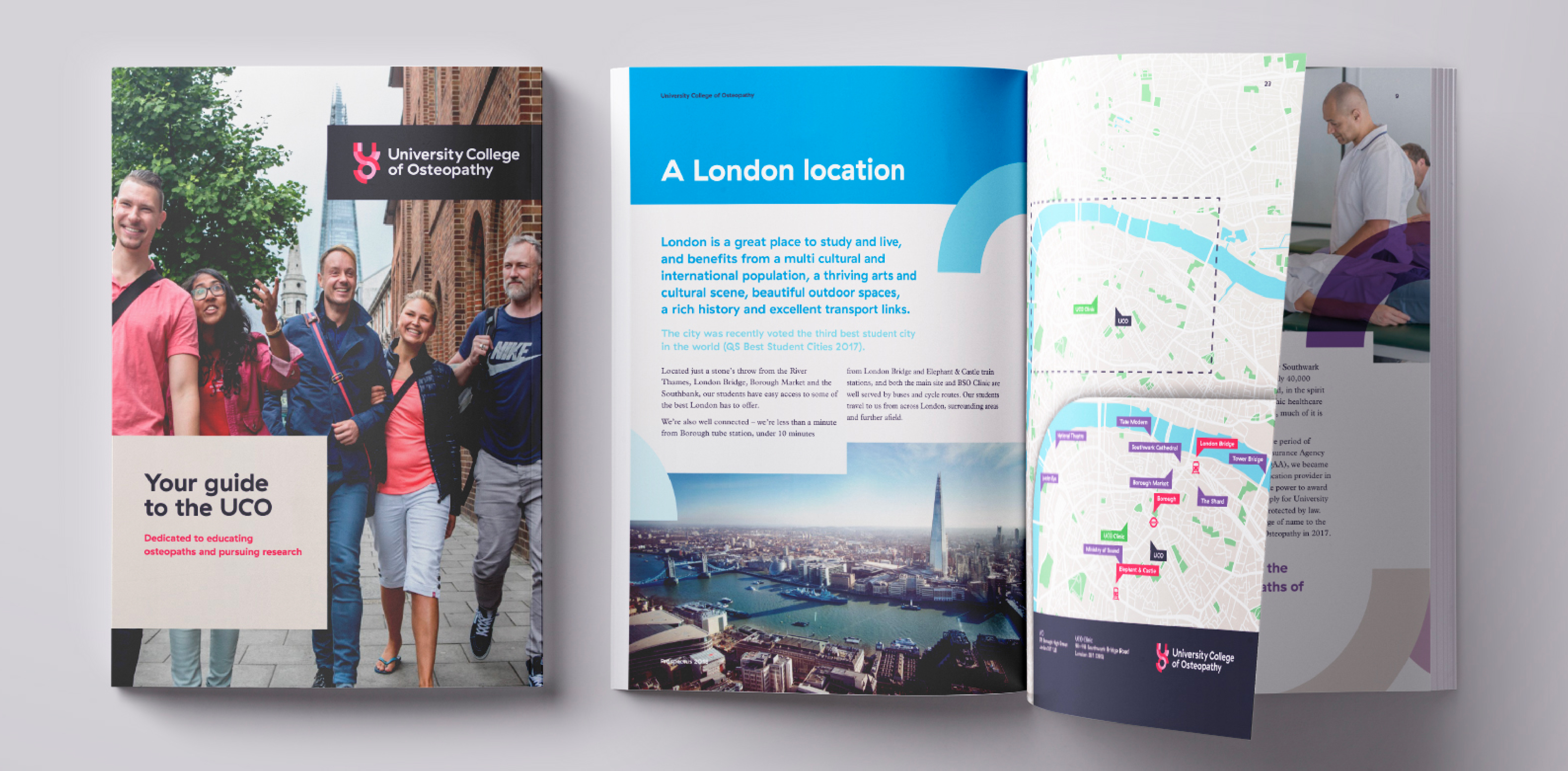 IE has led us expertly through a significant rebranding project, engaging with key stakeholders and ensuring buy-in at every stage. We're delighted with our new visual identity and how IE has brought it to life online.
Charles Hunt, Vice Chancellor
Image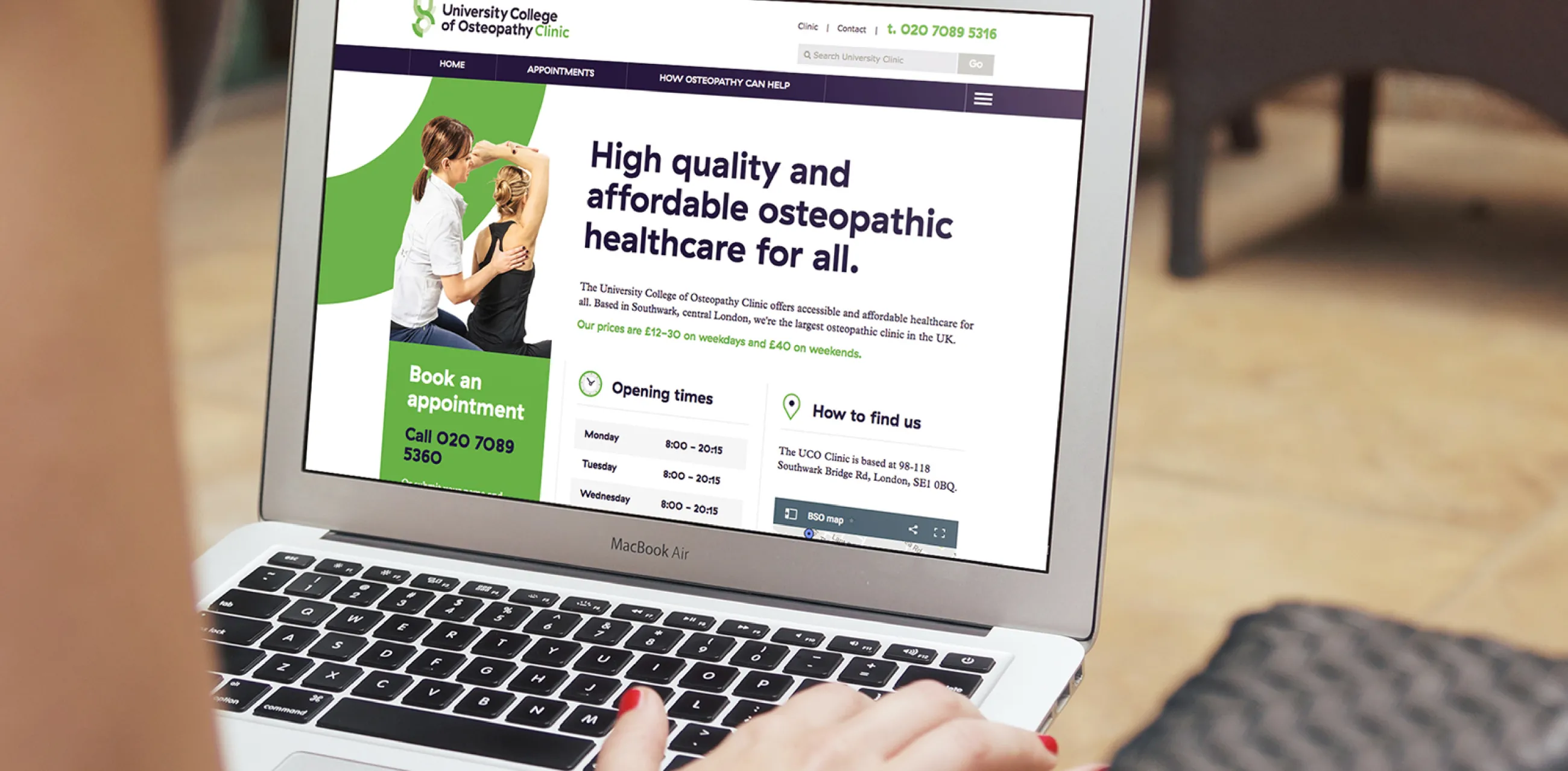 Advise
Renaming and brand messaging
Our listening phase led to a full set of recommendations on where to take the brand.
Naming
Two strong naming choices emerged. "BSO University College" played it safe by retaining the BSO's well-known acronym. The braver choice was simply "University College of Osteopathy", which contained the all important hygiene word – Osteopathy – and really 'did what it said on the tin'. We strongly recommended the latter, and all but four of the BSO's 400 shareholders agreed.
The new University College of Osteopathy name could not be adopted before first being granted approval from the Privy Council, which determined the eventual date of the brand launch in September 2017.
University College of Osteopathy Clinic
A significant recommendation arising from the research phase and the digital consultancy was that the Clinic website should be separated from that of the College. It had previously been a subsection of the main BSO website, but this had led to confusion and a suboptimal user experience for both patients and students. The patient user journey – very different to that of a student – warranted a website that offered a bespoke user experience.
Brand messaging
Our research showed that UCO had plenty to be proud of. Well-regarded and respected in the sector, its reputation was cherished among students and alumni. However, they had a tendency to be rather 'backward in coming forward'. Their marketing communications didn't celebrate their strengths as clearly and impressively as some of their much smaller competitors.
Alumni wanted to see a more confident UCO, looking and acting like the "Oxbridge of Osteopathy" – an institution at the top of its game in both teaching and research, flying the flag for osteopathy with pride and acting as a spokesperson and champion of the discipline.
Image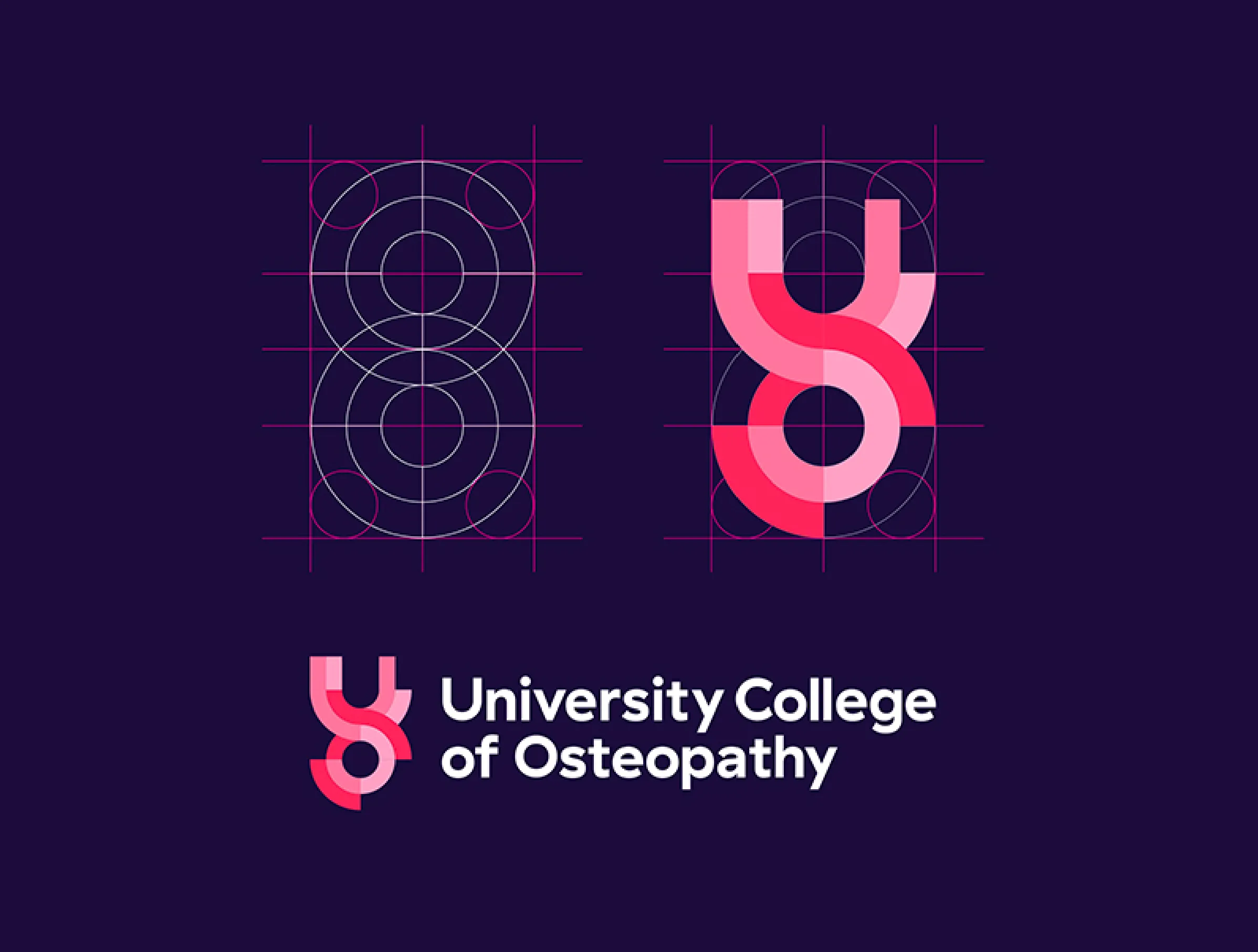 Image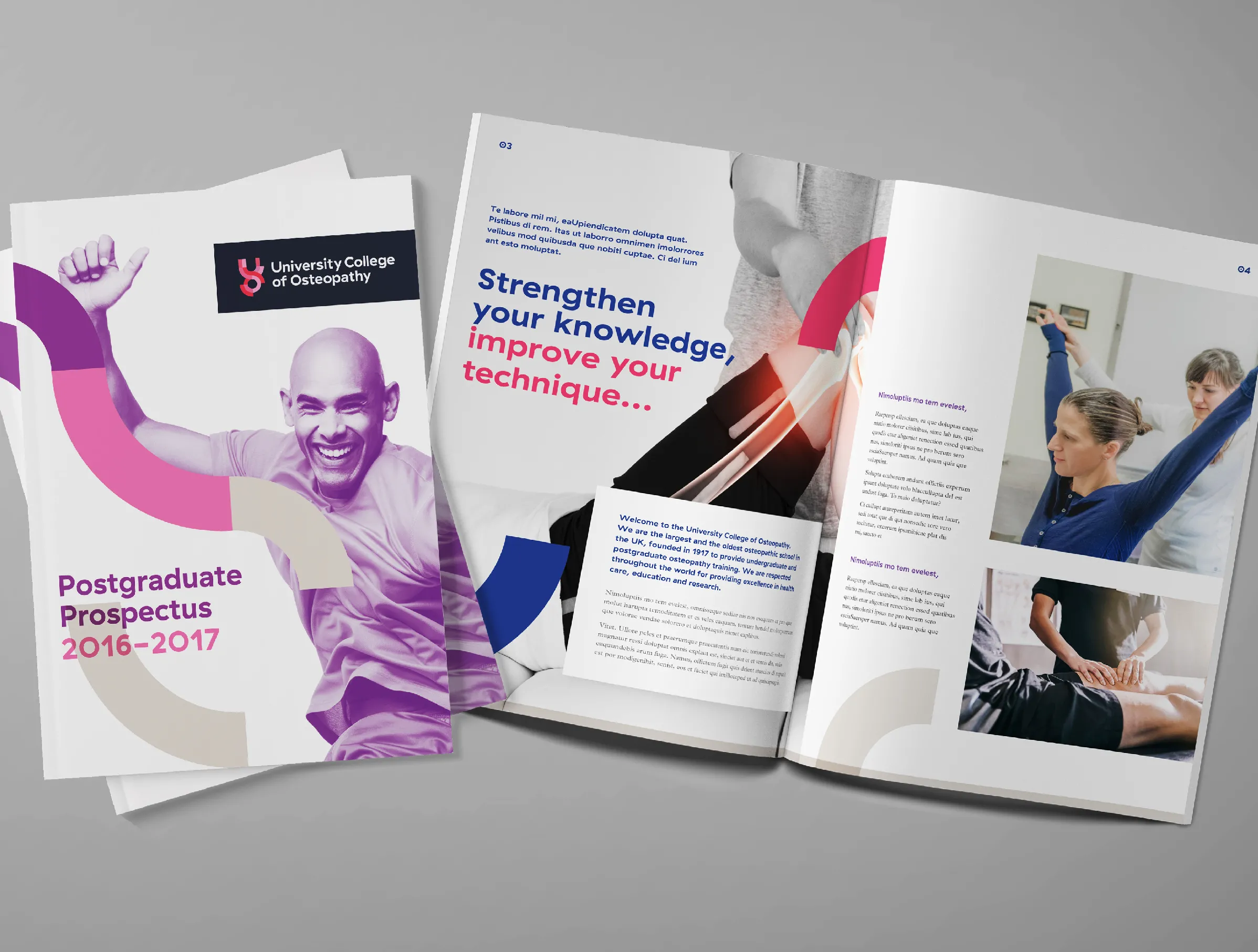 Deliver
Visual identity, logo and photography
IE Brand created a confident new brand identity to support the new name.
The UCO's core beliefs and messaging reflect a caring, student-centred approach to learning and a desire to change people's lives – not by searching for disease, but through a focus on finding health.
We designed a strong marque/logo, rooted in the heritage and values of osteopathy and inspired by the mathematical precision of anatomy.
The University College of Osteopathy Clinic has a distinct sub-brand, borne of the parent identity, with an independent tone and messaging.
IE created a new set of photographic assets and a launch video to explain the rebrand and celebrate the centenary. These assets form the centrepiece of the new websites for the University College and the Clinic.
IE's digital consultants worked with UCO stakeholders to define an intuitive user experience (UX) and information architecture (IA) for the College and Clinic websites, fully optimised for mobile.
Image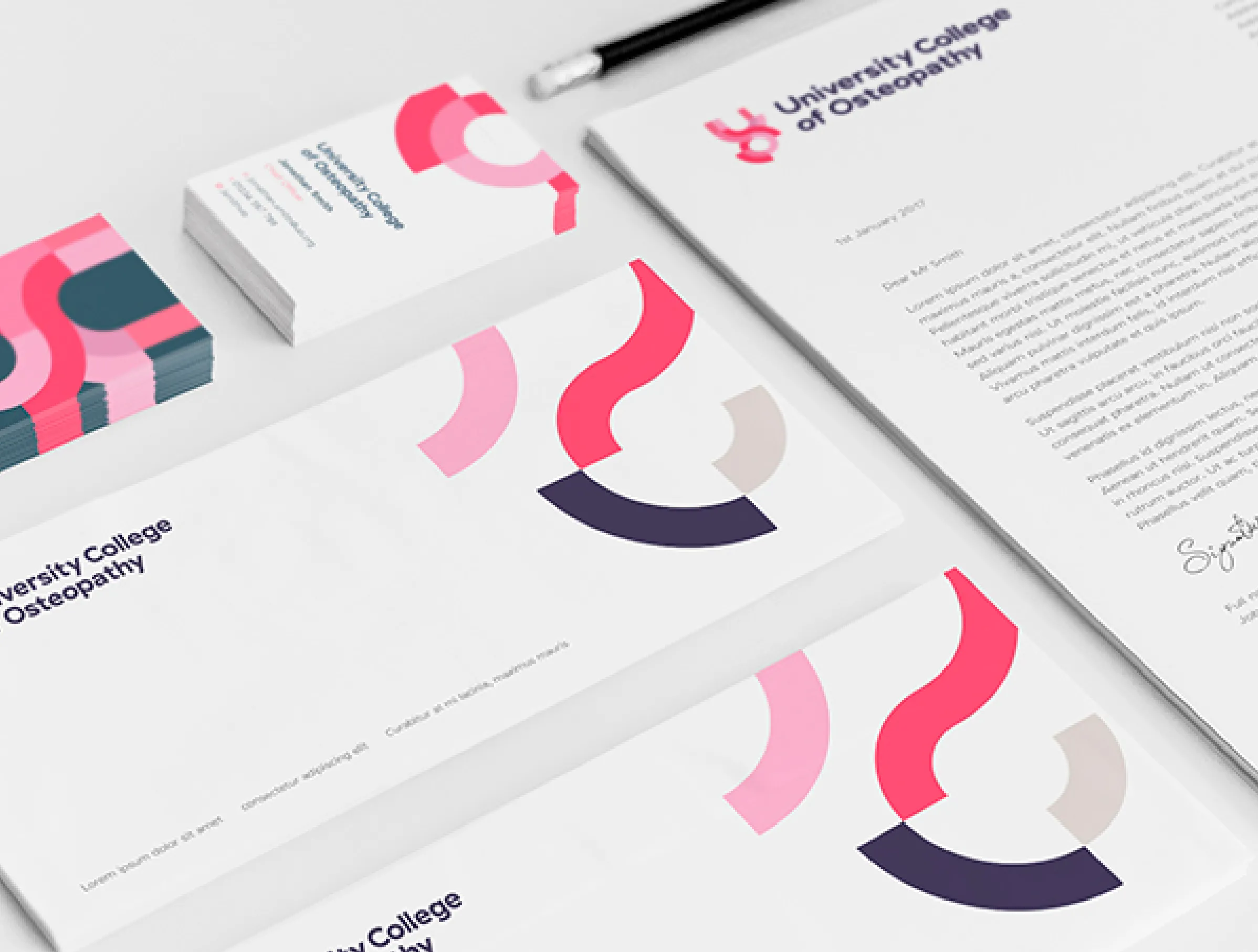 Image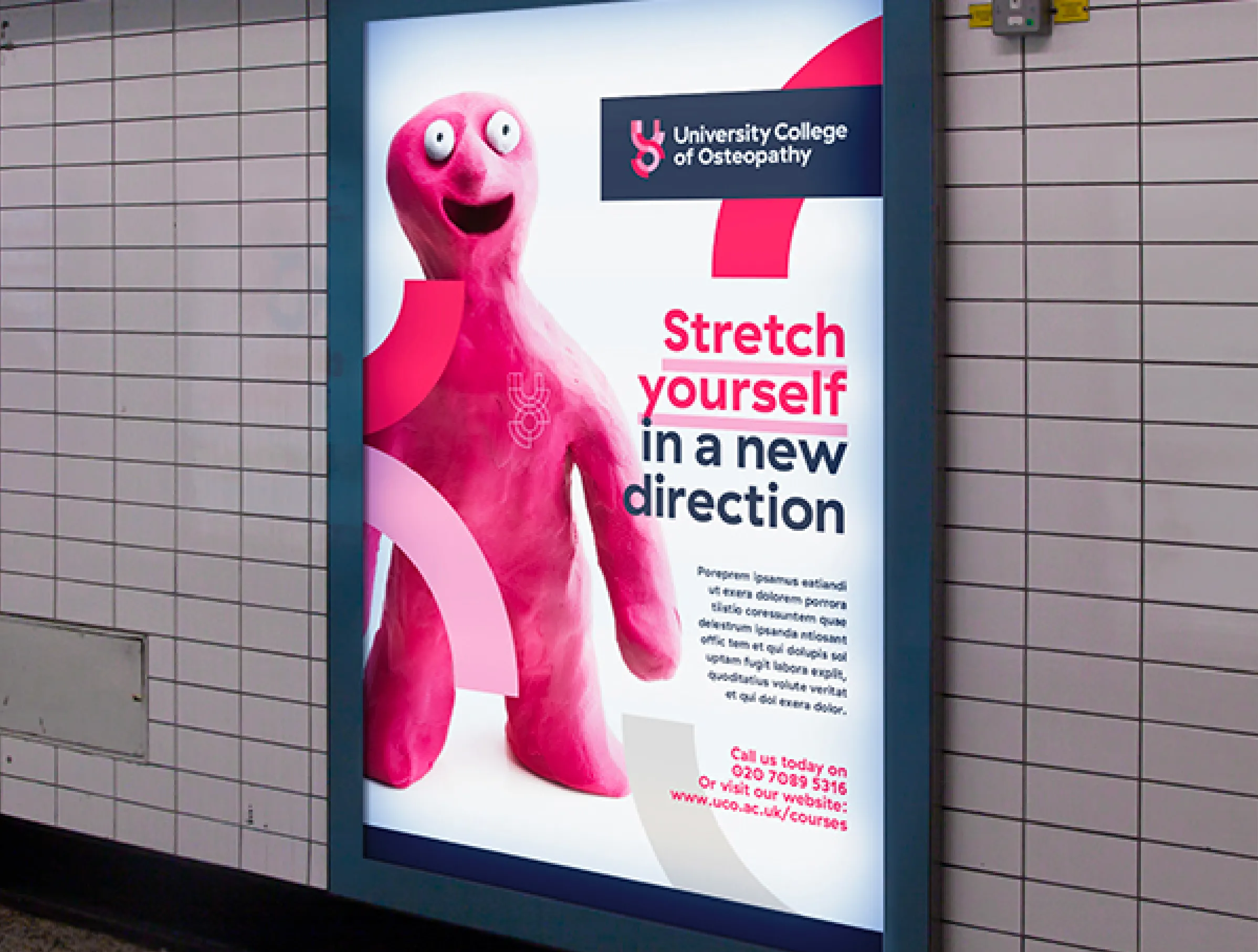 Support
Websites and prospectus design
Because of the way the rebrand project was funded, work on the brand and website was completed several months before the Privy Council gave final approval on the new name.
This left the BSO with a problem – an existing website that wasn't delivering, and a beautiful new one waiting in the wings. Not wishing to spoil the 'big reveal', the BSO asked IE to bridge this gap. To address short-term student recruitment needs, IE delivered an interim revamp of the BSO's existing website. This included some key UX enhancements, to improve the user journey and increase course applications.
When the time came to switch over to the new site in September 2017, we provided go-live support, and we'll continue to host, support and maintain both of the new websites.
We also designed a new 24-page prospectus, bringing the new brand to life in a comprehensive guide to studying at UCO.
100 years celebrated with new University College status, a new name, a new brand
99% buy-in from shareholders for the new name
2 new websites: University College and Clinic