Services
Campaign branding
Campaign messaging
Copywriting
Visual identity
Film scripts
Industry
Charity
Health charities
Membership organisations
Health
Mental health
Finding It Tough is a campaign from the Royal Air Forces Association (RAFA) to support the launch of a new series of one-day mental wellbeing courses.
The Royal Air Forces Association is a membership organisation and registered charity that provides welfare support to the RAF Family. They recognised that RAF service can place a strain on everyday life, so created free training for both serving and non-serving members of the RAF family. IE Brand created a thought-provoking campaign to get the programme noticed, get people talking, and drive sign-ups to the courses.
Image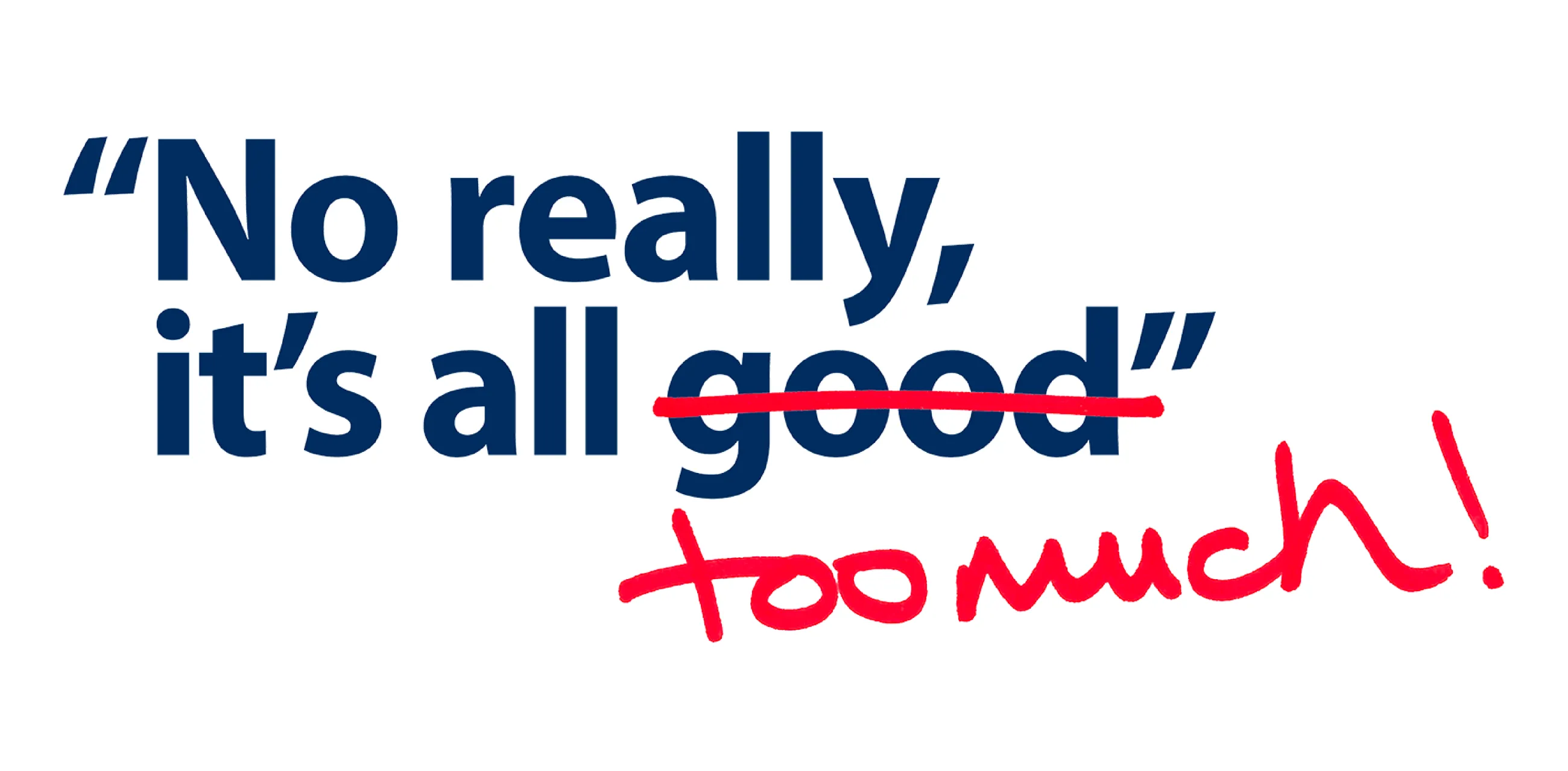 Listen
Co-creating the campaign brief
RAFA recognised that anyone in the wider RAF family can face ever-growing mental health challenges.In 2020, they decided to launch a series of bespoke one-day mental wellbeing courses to help address this, in partnership with the RAF's Psychological Skills team.
The courses are available to everyone from serving RAF personnel and other people working alongside them, to veterans, partners, widow(er)s and families. They offer practical help for improving participants' own mental wellbeing, as well as showing how to spot the signs that friends, family members or colleagues might be suffering, and providing the tools to support them through it.
Campaign brand workshop
IE Brand led a workshop with key RAFA stakeholders to agree on the scope of the campaign. The charity asked us to create compelling campaign messaging that would gently provoke their audiences to consider whether they or someone they know may be suffering with their mental health. We needed to let them know that help is on hand through these courses, share details of how to enrol, and tell them what to expect on the day.
The campaign needed a strong visual signature that, over time, people would recognise whenever RAFA is talking to them about mental health – considering future activities above and beyond the courses.
Image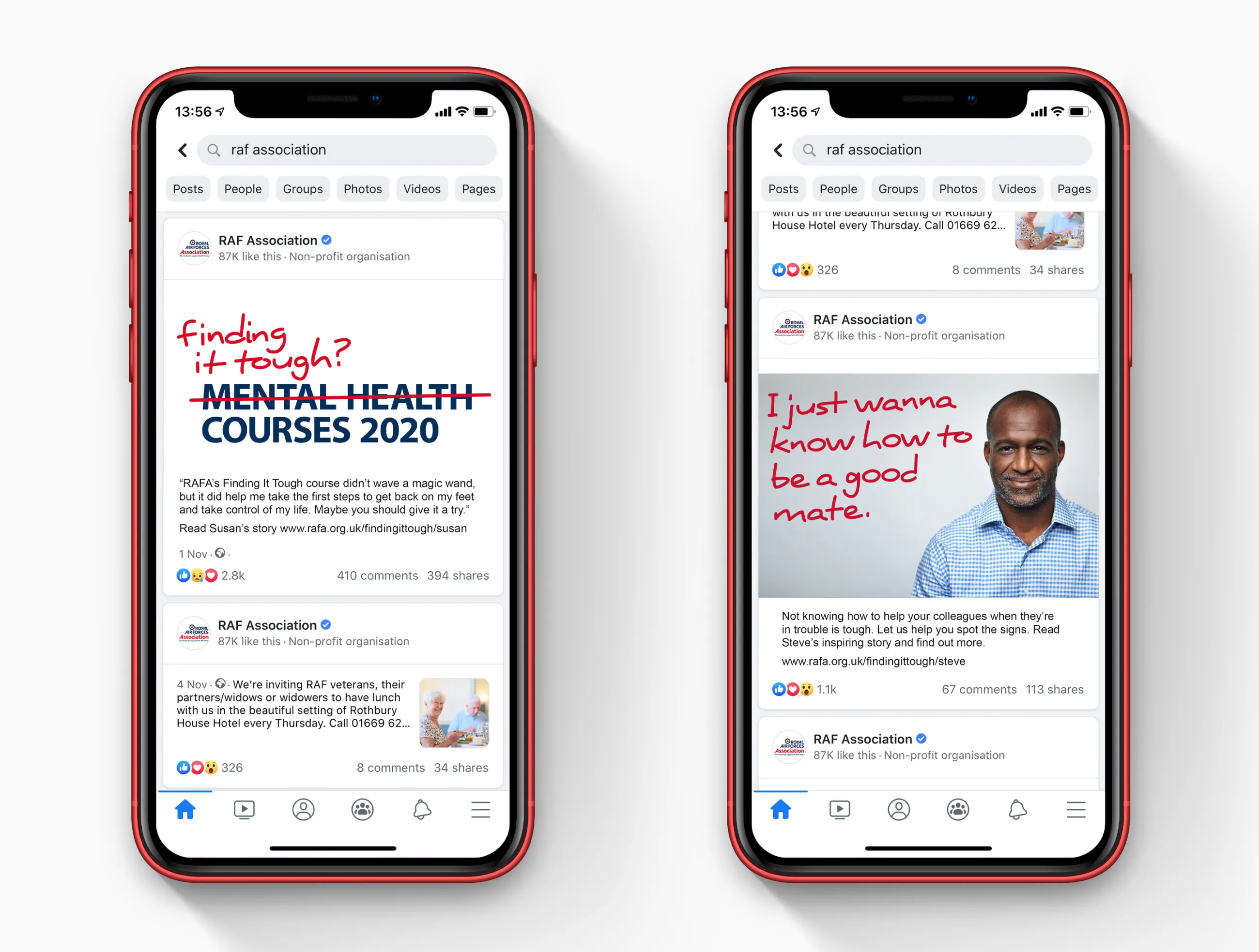 Image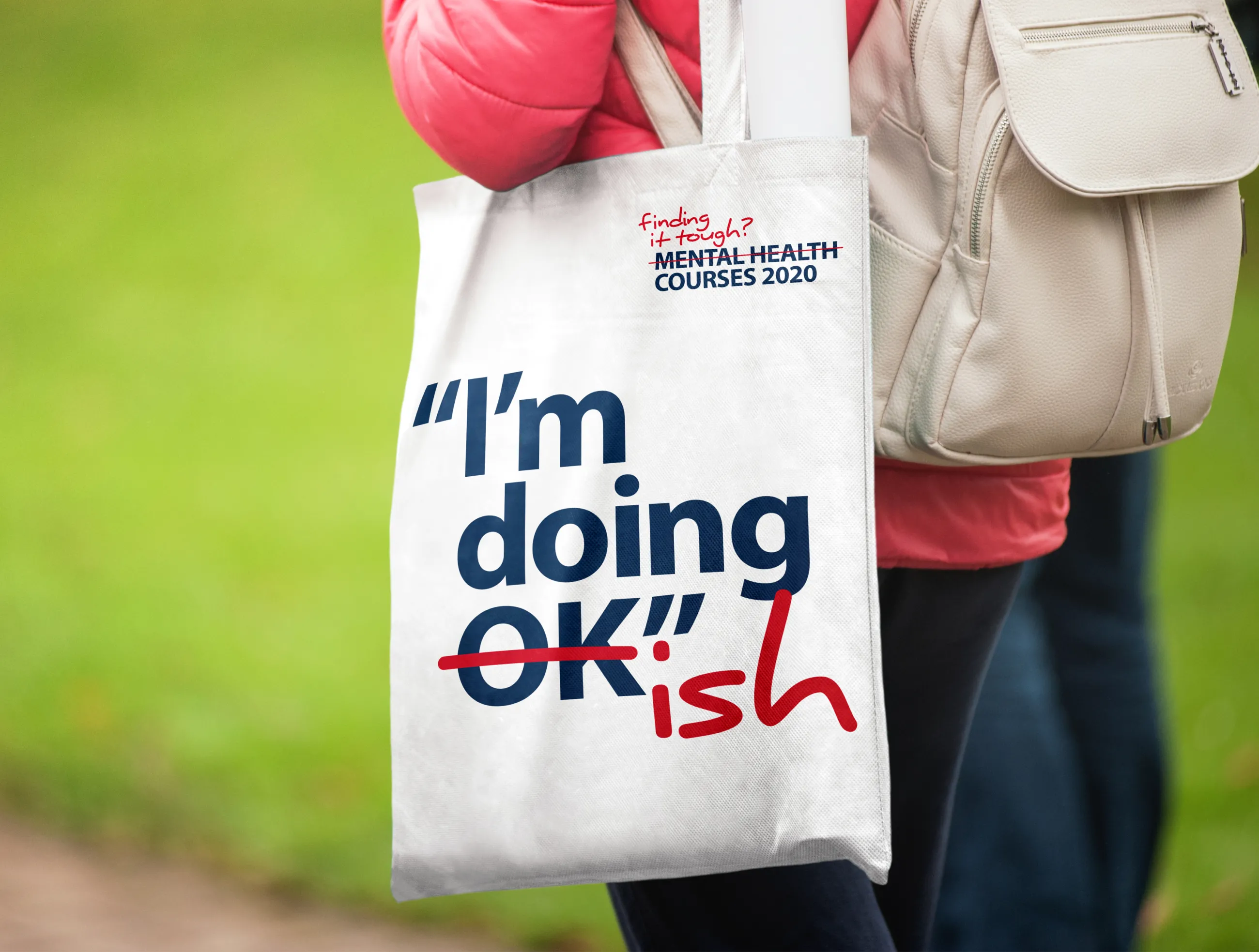 This is a great ad, it's non-judgmental it makes you want to ask for help and it's ok not to be OK.
It's like the person can take control of helping themselves to join in a course to do with mental health, this is positive you would want to do a course.
Facebook commenter responding to Laura's story
Image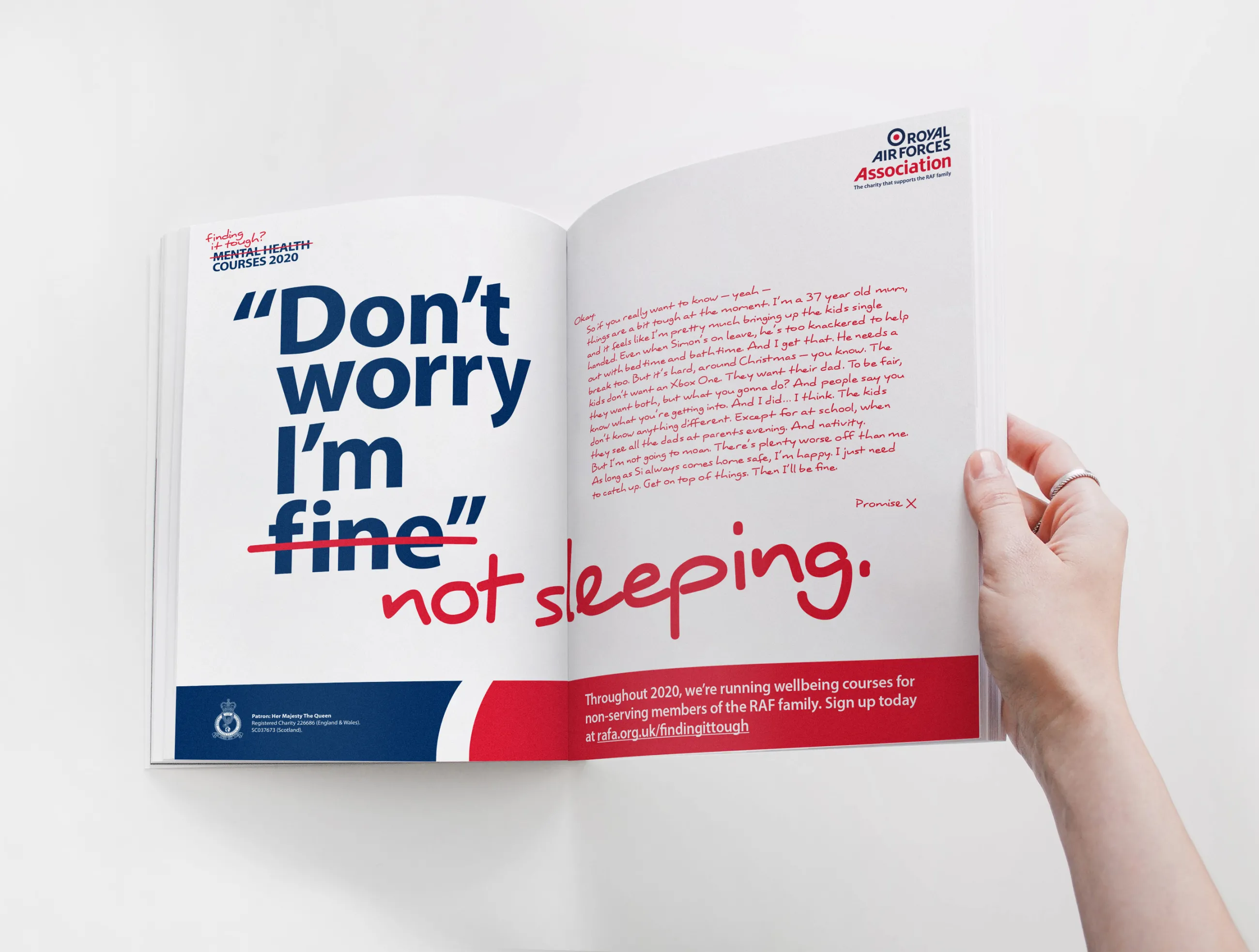 Image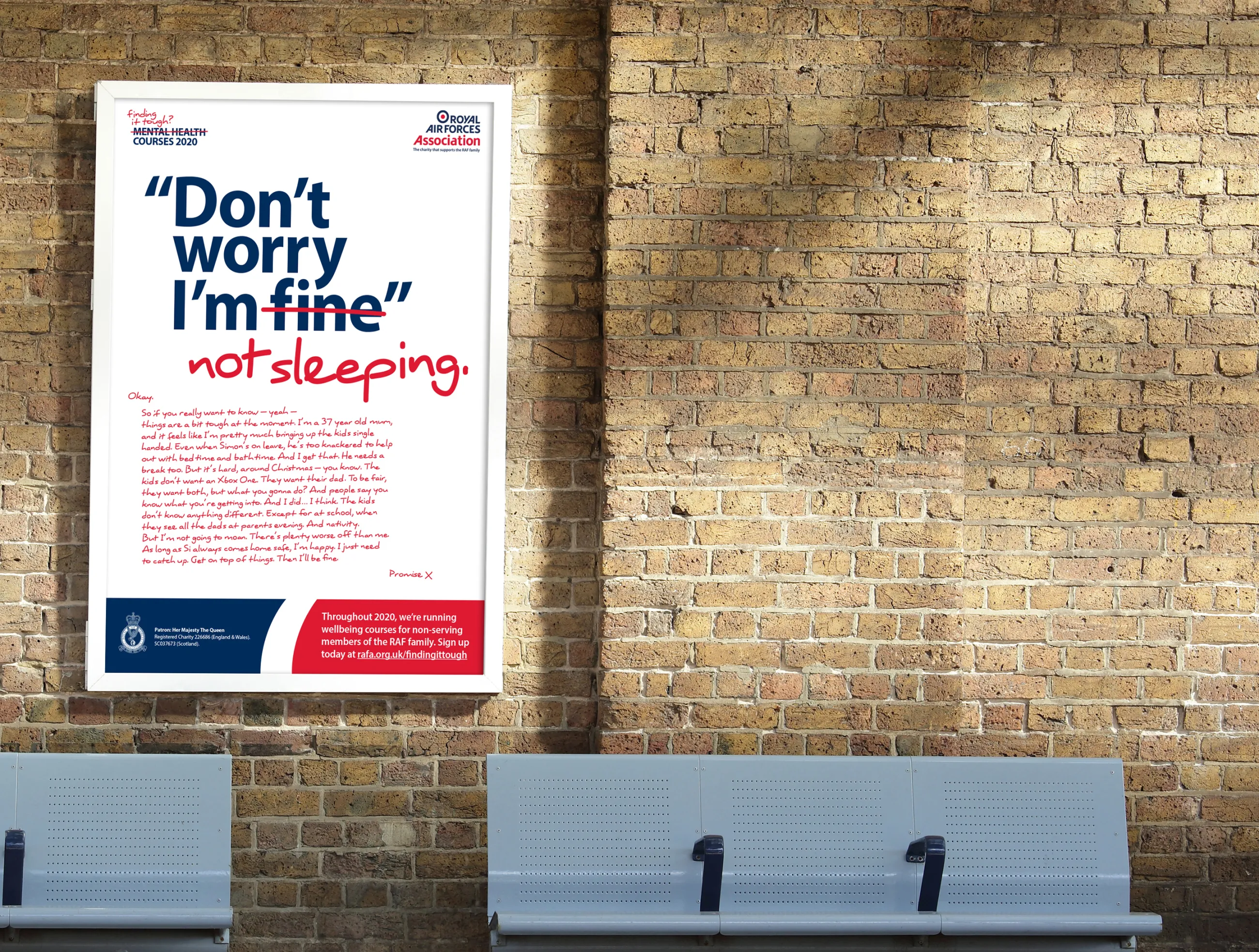 Advise
Understanding the audience
Through the course of the workshop and our initial campaign research IE knew that – even for a free course – we were still asking a lot of people to sign up and come along.
They first needed to recognise that they're struggling, trust that their participation would be confidential and worth their time, research their nearest venue and find a suitable date. They might need to take time off work, arrange childcare, and travel several miles to access this support. So that we could grow awareness and ensure a good uptake for the courses, we needed a catchy and thought-provoking campaign. Most importantly, we needed to show that we really understood what RAF families are going through, and the pressures they are under.
Although serving personnel would be welcomed on the courses, the primary audiences were people in the wider RAF family. IE Brand identified four different audience types who might benefit from the courses and created a unique character and story for each.
Image
Deliver
Creating stories that resonate
For the Finding It Tough campaign, IE Brand created stories based on four characters, to explore what they're not saying about their mental wellbeing.
We wanted to reflect the hidden challenges involved in being close to someone in the RAF, and the tendency to insist that everything's OK, when really it could be anything but…
Each of our four handwritten stories helps the reader to get to know the person and empathise with them, in a situation typical of RAF life.
Keith – a widower who has moved around a lot with his RAF wife, and is feeling lonely since her death without a strong support network.
Laura – a young mum whose partner Simon is serving in the RAF.
Raj – a 40-something RAF veteran who is struggling to adapt to life in a 9-5 job back on civvy street.
Hannah – a contractor on an RAF base, feeling concerned about some of her colleagues.
Each story is densely written and conversational, told through distinctive handwriting like a personal letter to an old friend. It's not necessary for people to read every word – although the intriguing stories will draw some people in – but the stories demonstrate that RAFA understands what it's like to walk in their shoes. The rest of the campaign visuals feature phrases that tap into people's fears of admitting they're struggling, using distinctive typography and phrases crossed out to show what they're REALLY saying.
Once the reader has recognised something of themselves in a story, they can click through to the campaign landing page to find out more about the courses and how to enrol.
Image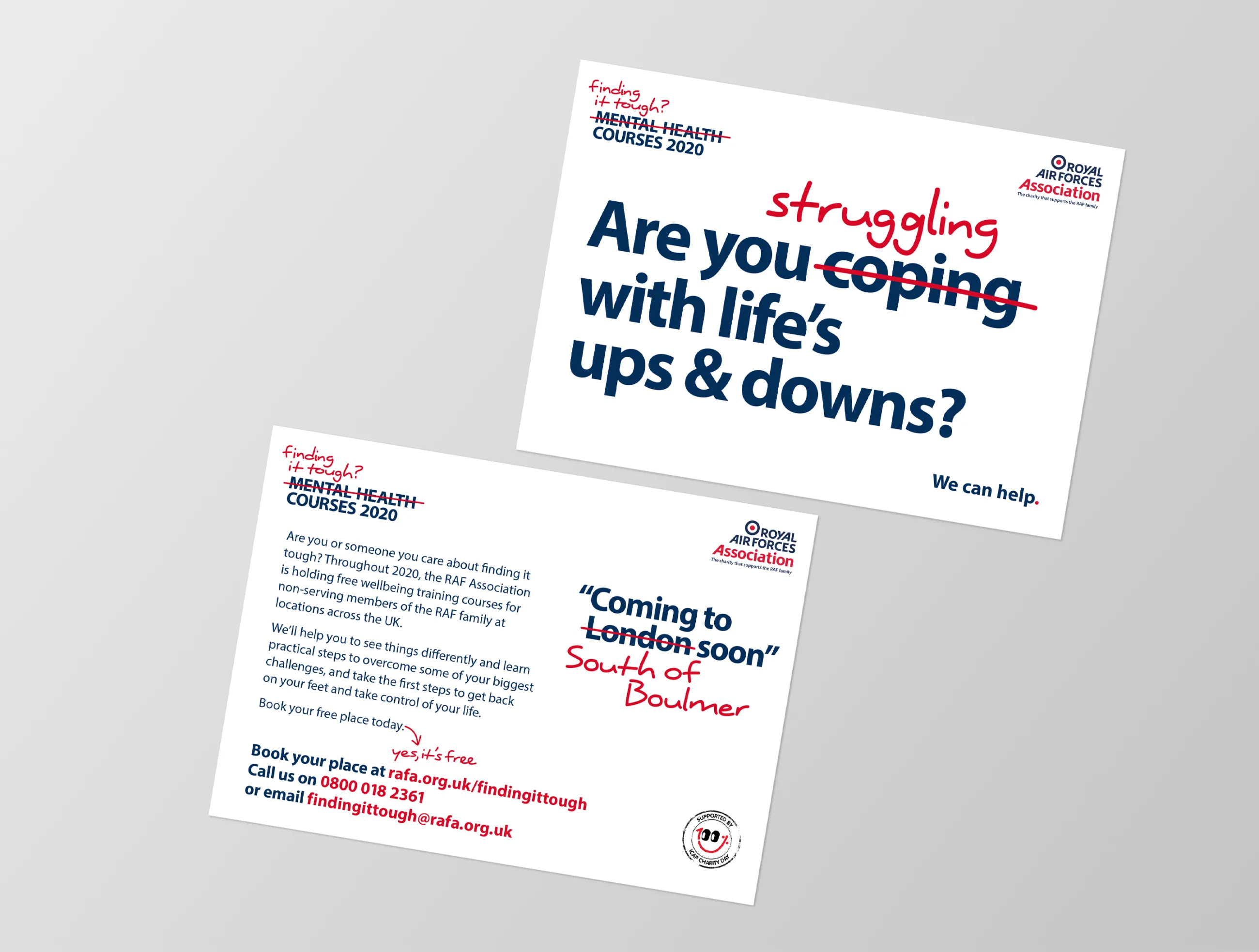 Image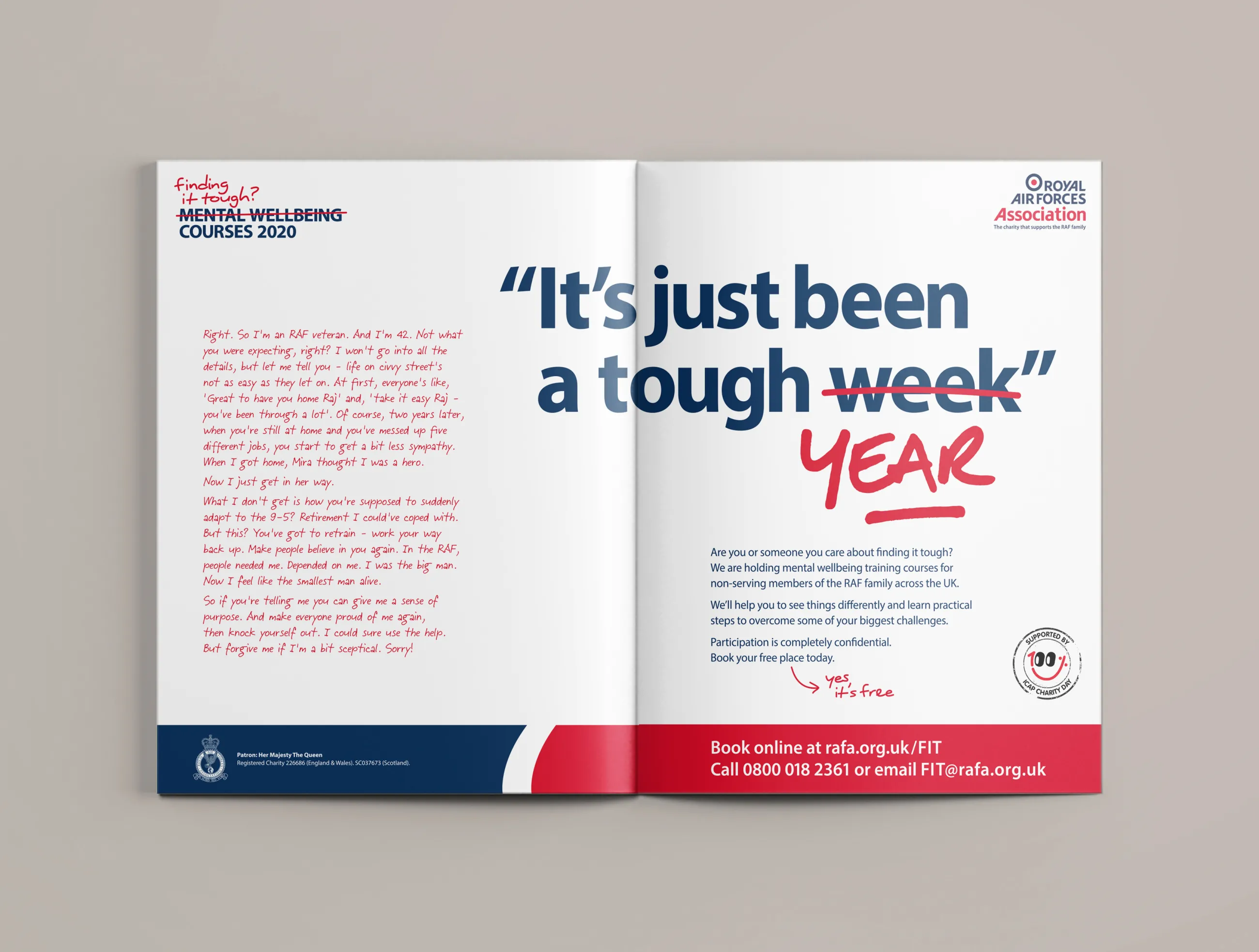 Support
Rolling out the campaign content
Once IE Brand had created a range of campaign assets including the typography, stories and mini brand guidelines, the RAFA team rolled it out across its various platforms.
Although the courses had originally been conceived to be delivered in a face-to-face training environment, RAFA had to re-orient the campaign in the face of the COVID-19 pandemic, with its resulting lockdowns and social distancing guidelines. The courses were therefore made available online.
The campaign was originally shared through postcard mailings, advertising in the RAFA magazine, and through RAFA's social media channels. But following the 2020 pandemic, the courses – which had originally been conceived to be delivered in a face-to-face training environment – had to move online. With the hope that in-person courses may be resumed at a later point.
The RAF Association then went on to create a series of campaign videos, with narration from IE's scripts: