Queen Mary University of London
Queen Mary University of London
Client
Queen Mary University of London
Services
Campaigns
Visual identity
Art direction
Industry
Education
Universities and HE
IE Brand led a multi-agency team to create Queen Mary University of London's (QMUL's) biggest ever student recruitment campaign. Aimed at raising awareness of the university among potential students, the creative highlights diversity and QMUL's Russell Group status.
QMUL is one of the UK's leading research universities, committed to improving social justice and achieving the previously unthinkable. Notable for its London campus and international collaborations in teaching and research, QMUL is home to over 23,000 students, representing over 160 nationalities.
Image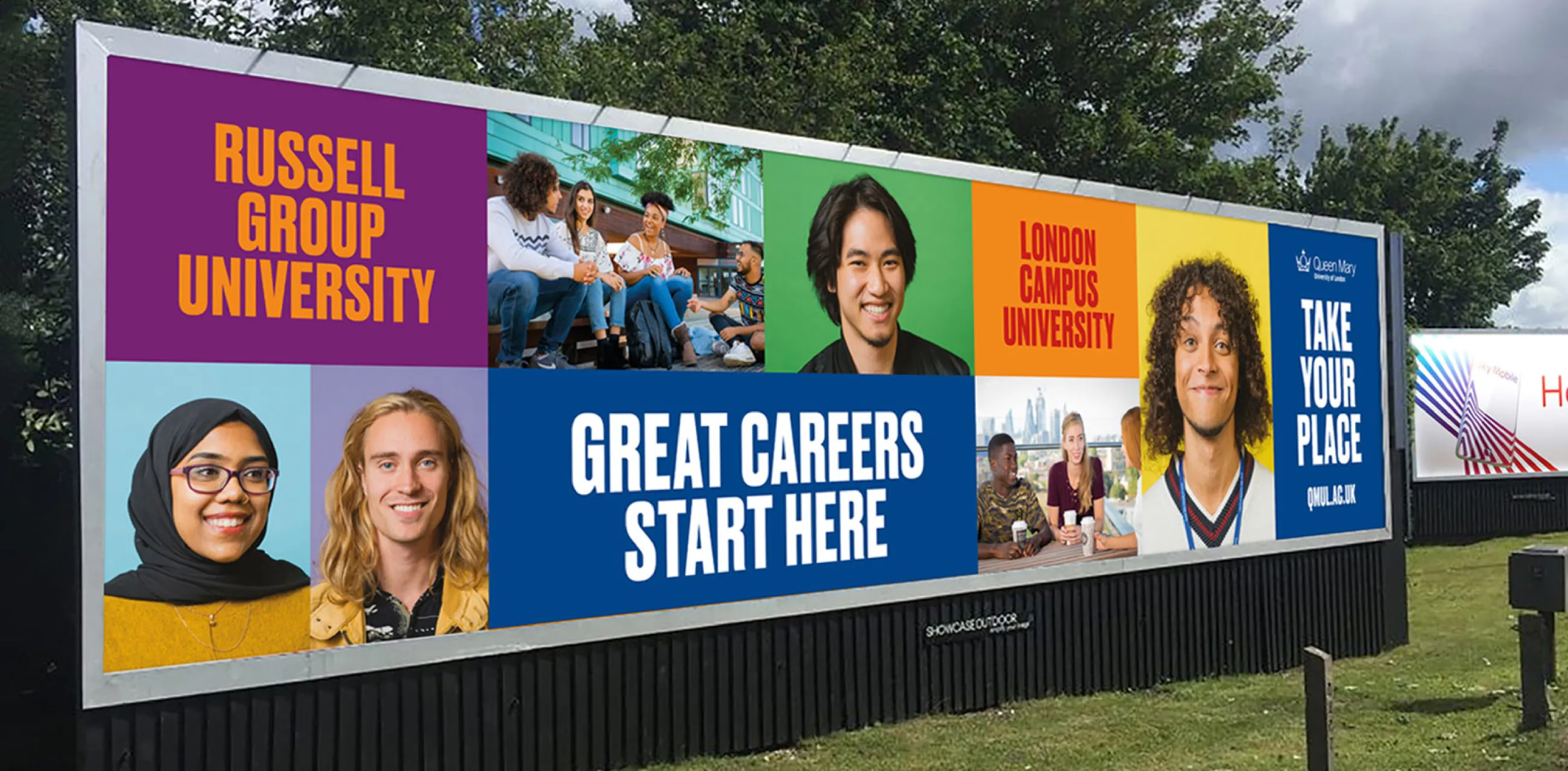 Listen
Attracting diverse young applicants
Based in London, Queen Mary operates in a fiercely competitive environment amongst the capital's biggest HE brands. It was time to strengthen and refresh QMUL's image, and to lead a new student recruitment campaign with a compelling creative concept.
The campaign needed to emphasise the university's diversity of thought and ideas – and the intellectual brilliance it delivers, as well as their status as a strongly academic, Russell Group university.
QMUL needed a recruitment campaign that would resonate with young people – something that would combat the application fatigue often experienced by pre-undergrads. Primary challenges included population decline in the number of university-age students in the UK, as well as driving applications for particularly hard-to-recruit and high volume subjects.
IE's multi-channel campaign was targeted at prospective university students with good academic results, and their parents, teachers and other influencers. Success would be measured through pre-graduate Open Day attendance, and ultimately UCAS applications.
Image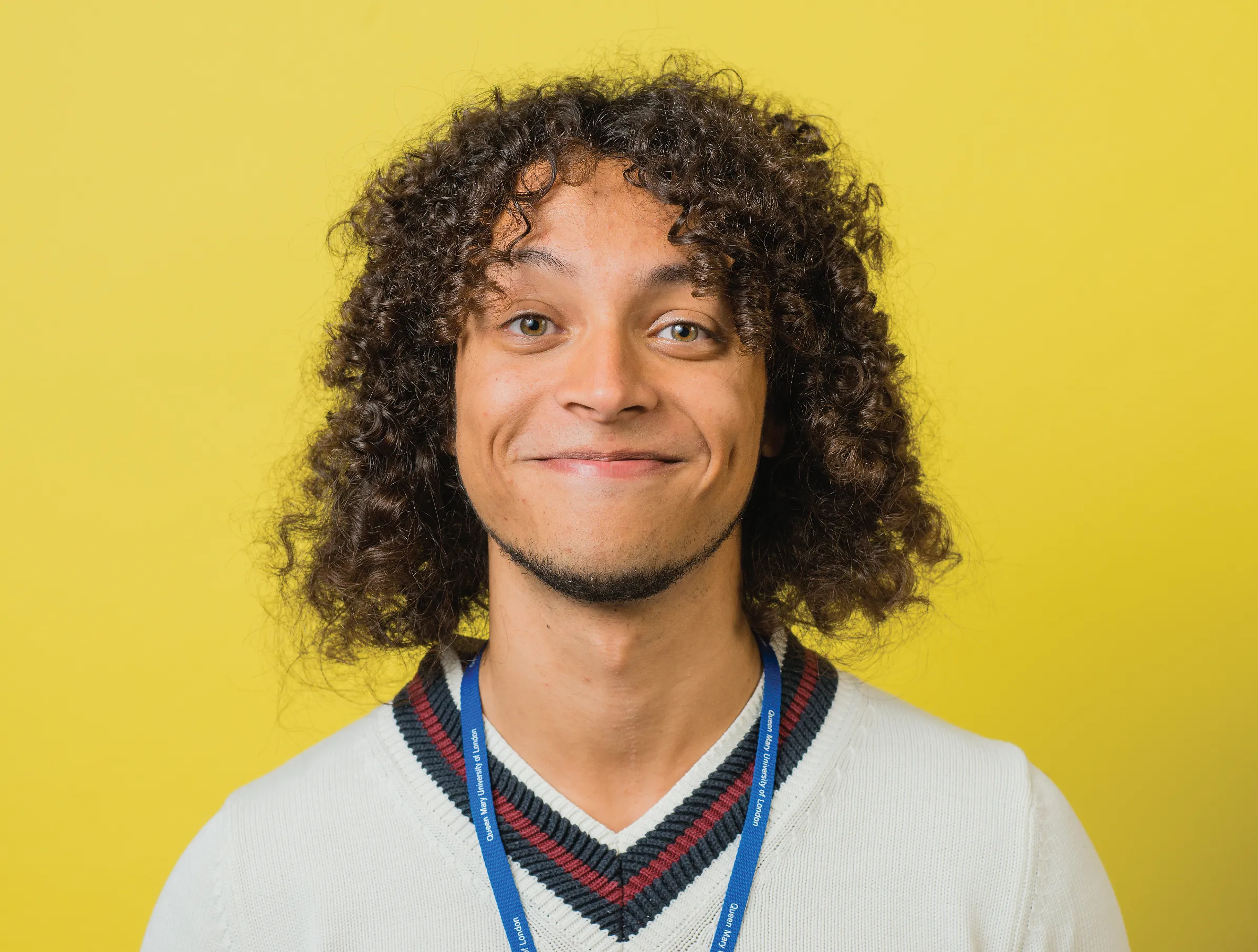 Image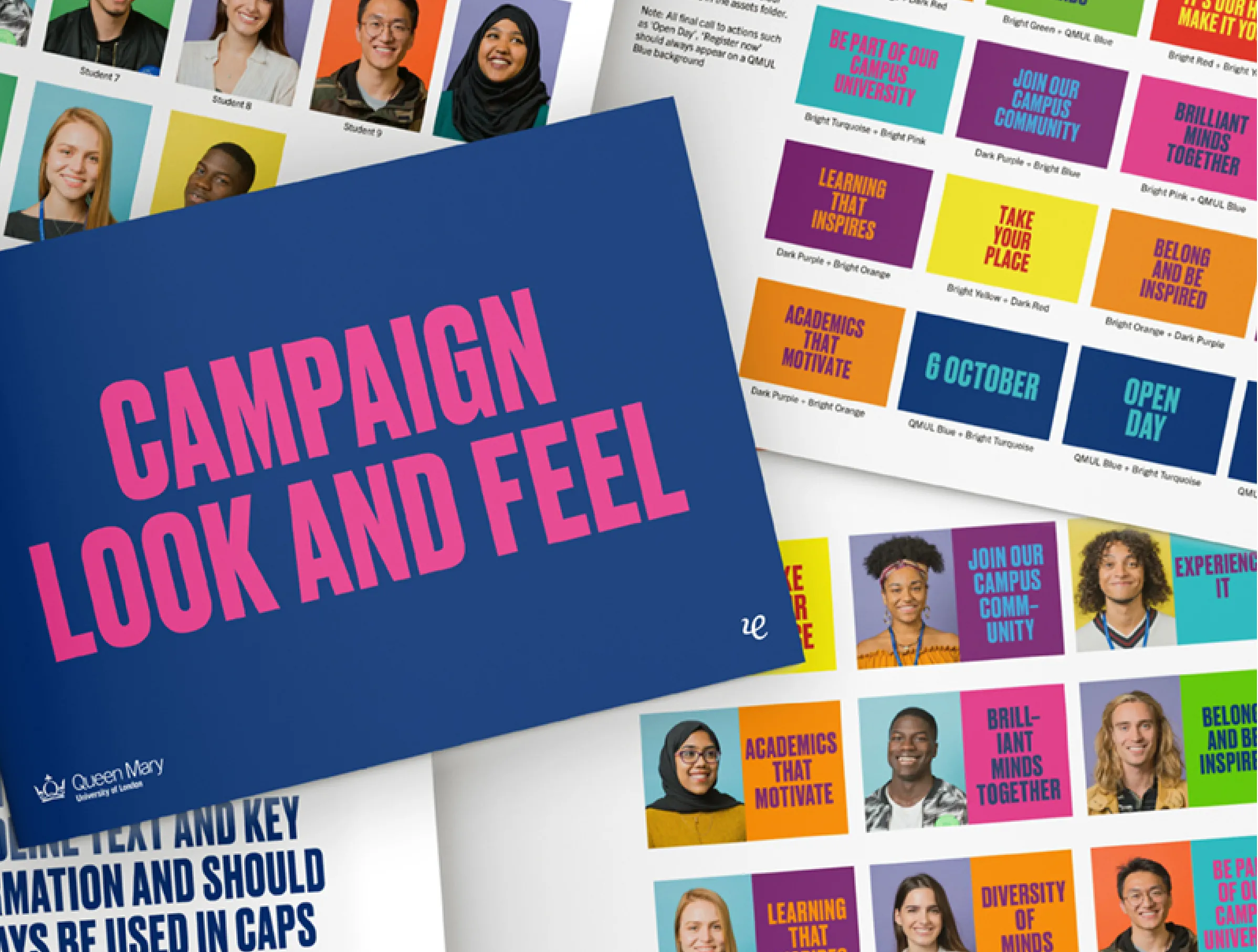 Our experience with IE has been very positive with an easy and professional working relationship that has made the project a pleasure. It's not easy working on a project with challenging deadlines and multiple agencies. The whole team at IE made this process seamless for us and developed a strong creative, managed the project and provided feedback and recommendations. Thank you IE. We look forward to working with you again.
Negin Parvizi, Head of UK Student Recruitment, Queen Mary University of London
Image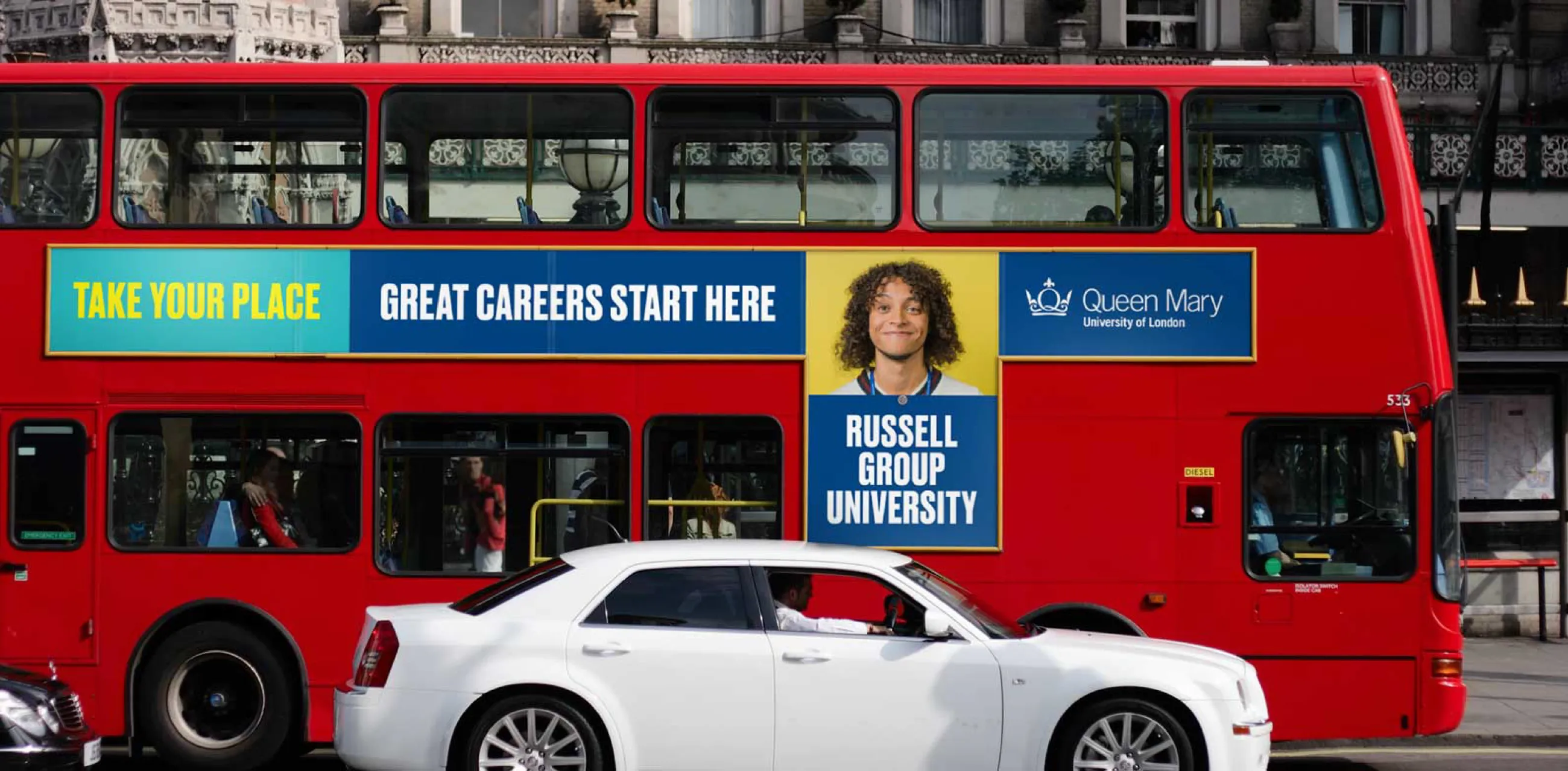 Advise
Creating a campaign brand
IE's creative concept for the campaign visual identity puts real Queen Mary students front and centre, to show the many welcoming faces at the university and highlight the university's naturally diverse population.
We created an impactful colour palette for the campaign, with the core brand colour, QMUL Blue, used throughout. The messaging uses bold typography in carefully chosen colour pairings to ensure it's bright but legible.
Image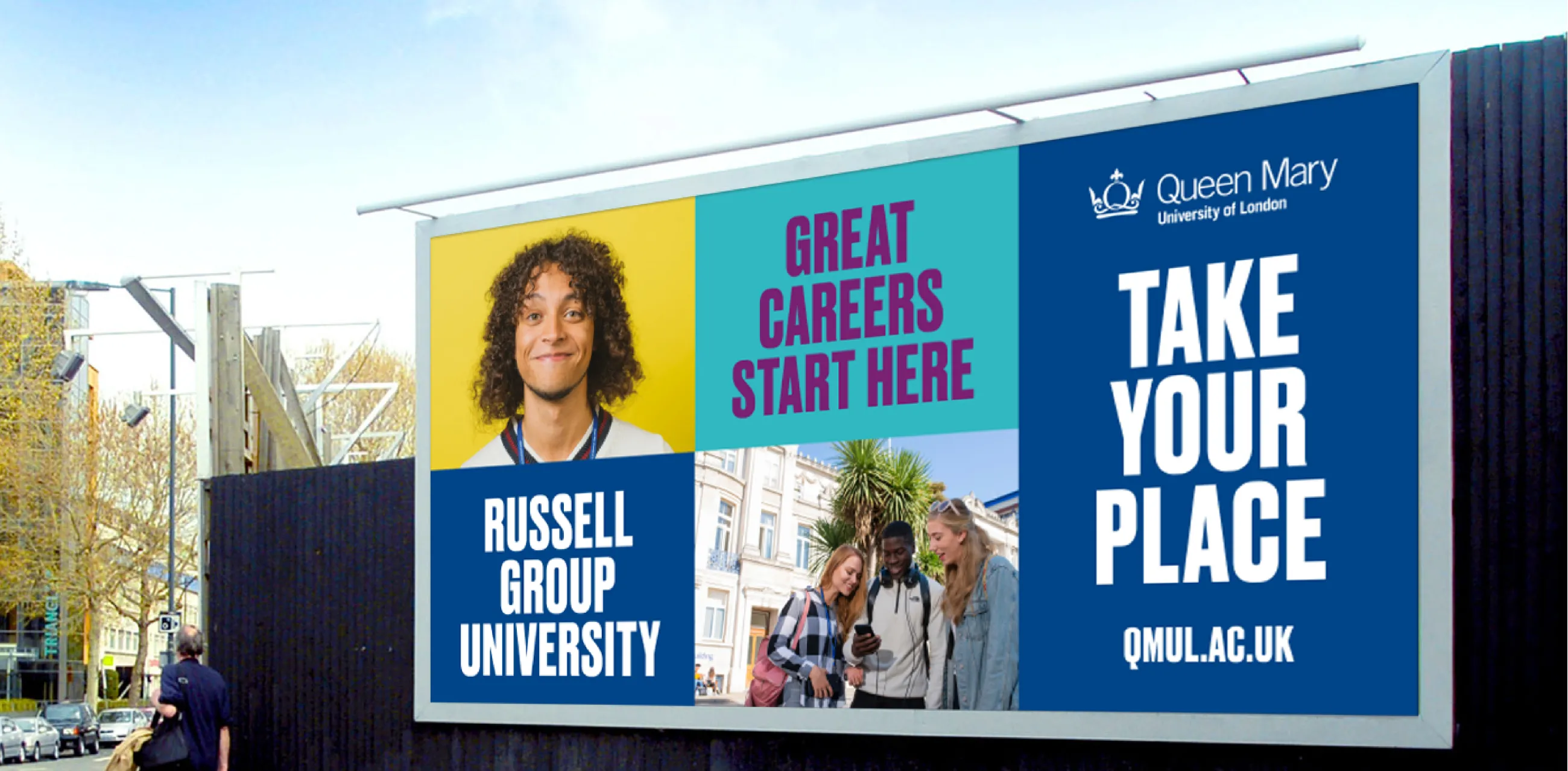 Deliver
On and offline campaign assets
IE Brand acted as the lead agency, working with specialist media and video agencies, and liaising closely with QMUL's in-house marketing team.
Given the breadth of the challenge and short timescales before the campaign was due to launch, IE worked at great speed to deliver all the required assets. We oversaw a two-day photoshoot with students on location at QMUL, with the striking results forming the backbone of the campaign. A third day of photography, to capture pre-undergrads exploring the campus at the university's open day, provided additional brand assets for ongoing marketing activity.
IE Brand's work resulted in a larger-than-life recruitment campaign, running across outdoor media and a host of digital channels. We created a flexible set of bright, bold and impactful visuals, starring the students alongside with strong messaging and calls to action.
The campaign visuals were then adapted to suit more than 50 pieces of artwork and animation.
Out-of-home ads
London buses (T-Sides and Supersides)
Roadside 48-sheets and 96-sheets, animated digital 6 sheets – in close proximity to QMUL's target feeder schools
Online
Display advertising (Skyscrapers, banners, MPUs etc.) and GDN remarketing ads
Social media assets
Long-form native content to promote the autumn open day, and in the lead up to the UCAS application deadline
Total 3.5 million planned online impressions
Support
Campaign toolkit and templates
IE Brand created a campaign toolkit for all of the other creative partners in the roster to follow, with guidelines showing the look and feel, messaging and recommended colour combinations that form the foundation of the campaign brand.
We built a full suite of multi-purpose campaign templates for creating booklets, brochures, posters, presentations and a prospectus for pre-undergrads. And we demonstrated how the statement brand could adapt into gifs, social media and the QMUL website.

Additionally, IE provides ongoing collateral support for QMUL as needed.
50+ pieces of artwork and animation, from 90-pixel gifs to 96-sheet billboards
186 out-of-home ads on London buses and billboards
3.5m+ planned online impressions through opendays.com and native ads