Goldman Sachs 10KSB

175+
full colour pages of reports, executive summaries and learning materials
70+
charts, infographics and icons created
500
online applications processed for 10KSB programme
Industry
Membership organisations
Education
Careers
Goldman Sachs launched the 10,000 Small Businesses programme – in partnership with five UK business schools – to identify businesses and social enterprises with high growth potential and equip them for growth.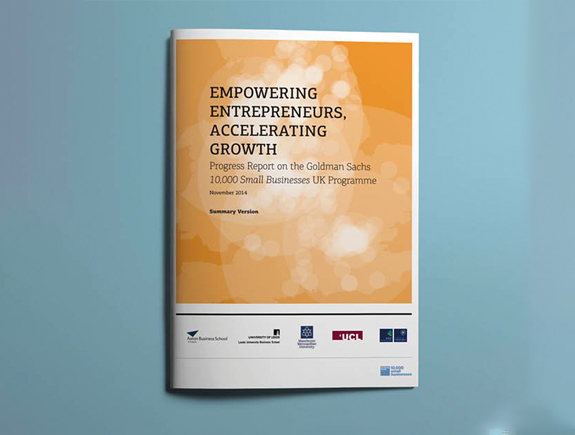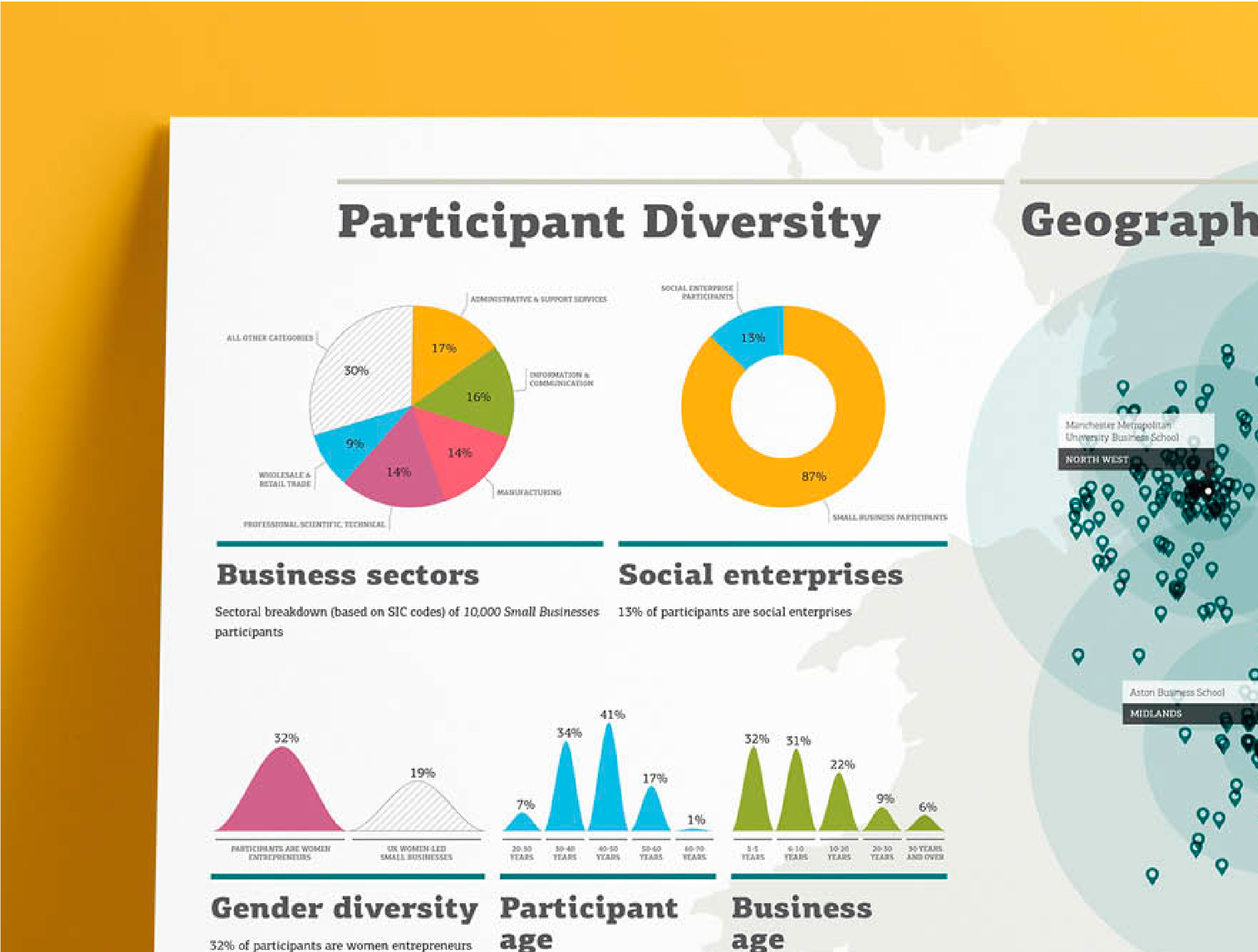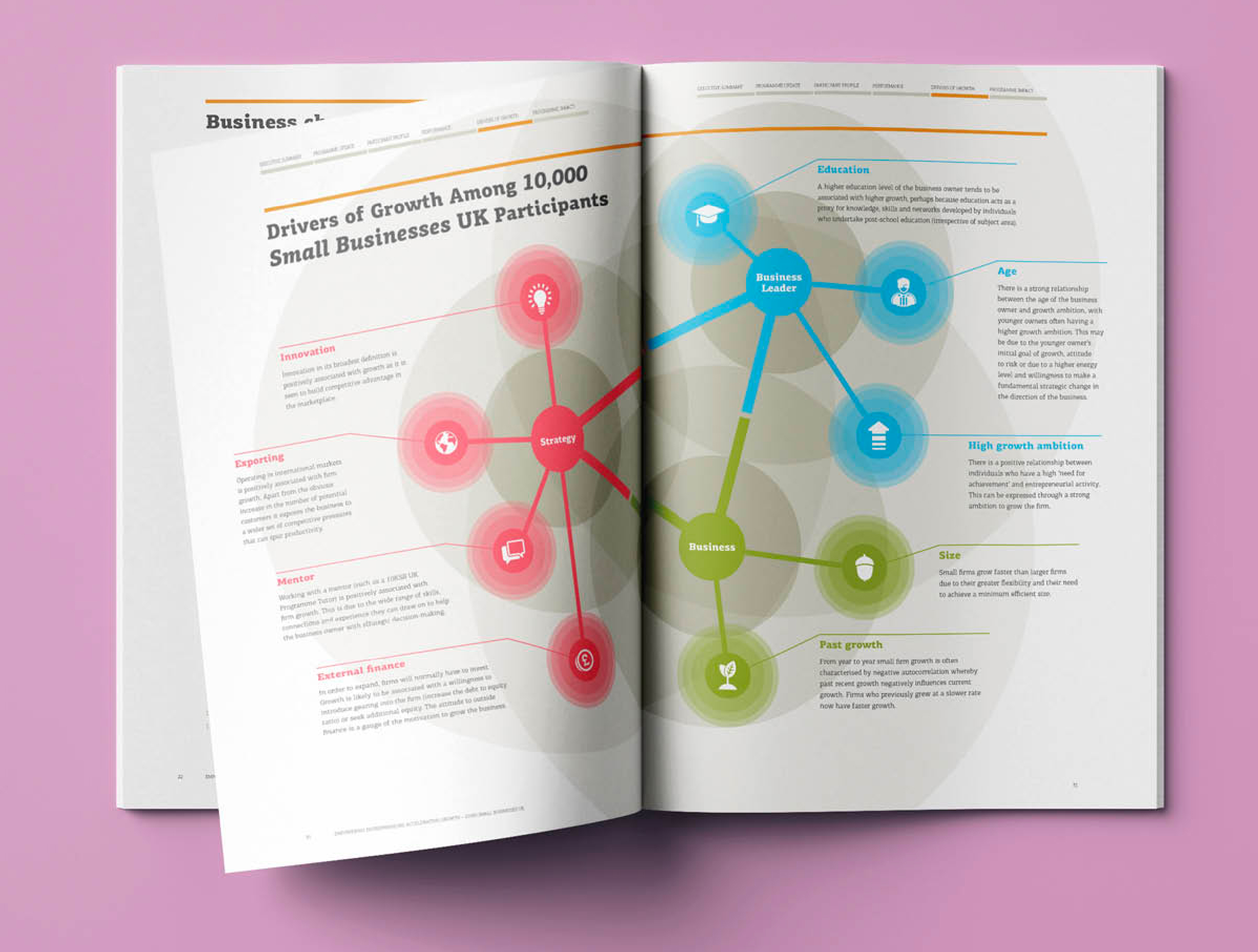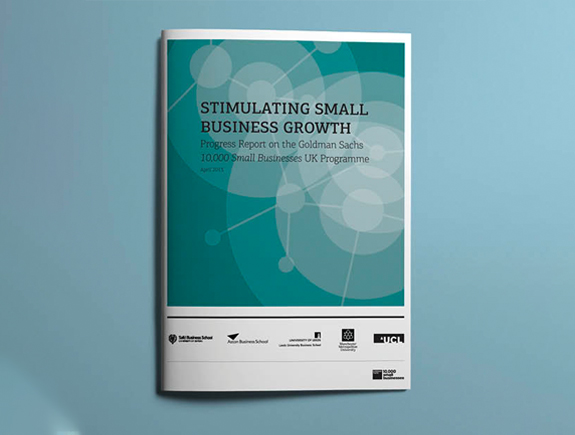 "The 10KSB Programme is a key project, so it was essential to appoint an agency that really understood our ethos and core aims. IE inspired confidence in all of the delivery partners and proved the perfect choice. Their innovative, consultative approach combined with creative excellence was really refreshing."
Mark Hart
Professor of Small Business and Entrepreneurship, Programme Director & Academic Lead
Before we landed
The business schools at the universities of Oxford (Saïd Business School), Aston (Aston Centre for Growth), Leeds, Manchester Met and UCL partnered with sponsor Goldman Sachs to create the programme. They'd commissioned an independent Progress Report into the national impact of the 10KSB programmes.
The challenge we were set
The report was factually accurate and in-depth, but it was dry and academic in tone. IE Brand was tasked with designing the final publication to be much easier to digest. It needed to walk the fine line between an academic paper and an accessible, visually engaging impact report.
The difference we made
As the design partner for this and future reports, IE Brand created open, clean documents with timeless typography and understated elegance. We used innovative data visualisation techniques and beautiful infographics, to communicate the complex impact mapping data.
We brought the report to life for a non-academic audience, and readers who only have time to 'dip and flick', rather than reading from cover to cover. The Progress Report was received to great acclaim, and directly led to an article in the business pages of The Times.
IE went on to design a series of publications, including, "High Growth Businesses and Their Perspectives on Europe" (produced ahead of the UK Brexit referendum).
IE Digital also designed and built the programme's online application process and automated comms.