Charity
Restored furniture website quadruples online sales for charity Betel
An ecommerce website has opened up a new fundraising revenue stream for the charity Betel. The site brings the Restored by Betel business to a wider audience, by allowing them to sell more of their quality pre-loved furniture online, as well as through their bricks and mortar stores. Online sales have grown by 400% since the new site launched.
---

---
Betel thrives by training its residents – people recovering from drug and alcohol addiction – to be furniture restorers, landscape gardeners or tree surgeons. This funds their work, and many residents go on to run the businesses and mentor others.
IE Digital built a user-friendly new ecommerce site for the Restored by Betel furniture business. Restored offers beautifully crafted furniture that's been given a new lease of life in the Betel workshops. Donated pieces are carefully restored by skilled residents, overseen by the more experienced carpenters and craftsmen. These are then sold through their dozen or so stores, alongside new mango wood pieces crafted by residents in Betel centres in India.
The site is based on the Shopify platform, which IE Digital reskinned in line with the logo and colour palette we'd already developed for the Restored sub-brand. As Chris Servante, Online Retail Manager at Betel says, "We were delighted with how IE Digital translated the Betel brand to the new Restored ecommerce site. The site has opened up a fantastic new fundraising revenue stream for us, beyond our bricks-and-mortar stores."
AdWords analysis drives sales growth
To drive traffic to the site, Betel take advantage of a $10,000 per month Google AdWords grant for charities, and manage their Pay Per Click ads internally. A few months after the new site went live, Betel asked IE to review their AdWords spend, to see where improvements could be made.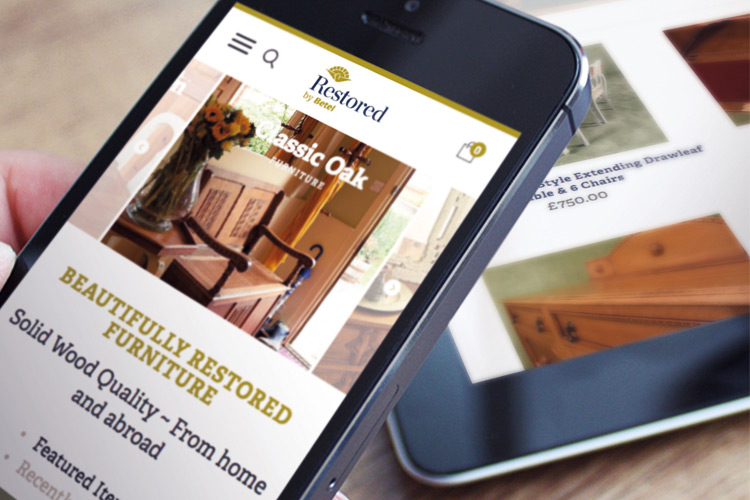 Our analysis showed that the most competitive, expensive keywords were bringing in traffic but failing to convert to sales, so we recommended ceasing all bids above £1. What was clear, however, was that once returning visitors came back for a second look at the site, sales tended to follow, so we recommended an increased emphasis on remarketing to visitors. We pinpointed a number of missed opportunities and wastage in the AdWords account, and recommended changes across target keywords, spend and messaging.
Betel implemented our suggestions right away, and immediately saw a dramatic improvement (figures below compare Q4 2017 performance with Q1 2018).
While the number of visitors to the site remained broadly the same, those valuable returning visitors increased by 46%.
Bounce rates on the site reduced by 14%, and page views and average session duration both increased by more than 45%.
Most importantly, conversions doubled – despite a reduced adspend and fewer clicks across far fewer keywords.
Overall, revenues from Pay Per Click advertising grew by a whopping 64%.
Six months since launch, online sales have quadrupled compared with the old Restored site. 
Chris Servante commented, "Our consultant gave us smart recommendations to improve the quality of paid traffic to the site, which has dramatically improved sales conversions. Excellent job!"
We were delighted with how IE Digital translated the Betel brand to the new Restored ecommerce site. Our consultant gave us smart recommendations to improve the quality of paid traffic to the site, which has dramatically improved sales conversions. The site has opened up a fantastic new fundraising revenue stream for us, beyond our bricks-and-mortar stores. Excellent job!

Chris Servante
Online Retail Manager, Betel