Charity, IE News
'Best new website' runner-up for Christian charity Clergy Support Trust
IE Digital's new website for Clergy Support Trust was named runner-up at the Premier Digital Awards on Saturday. The site has already delivered considerable impact for the charity and its beneficiaries, with an 84% increase in grant applications, year on year.
---

---
The new website, which launched in March 2019 to coincide with the charity's new name and rebrand, was nominated in the "Best New or Redesigned Website" category at the Premier Digital Awards, and bagged the certificate for second place. These awards recognise websites that – by design, content and purpose – have added something new and fresh to the Christian web.
Reaching more families in need
As detailed in a recent article in the Guardian, a significant minority of Anglican clergy are struggling financially, with many of them falling into debt to cover everyday costs. "Clergy are not going to be serving their communities as well as they might if they're worrying about paying bills or getting a holiday," explained Jeremy Moodey, Chief Executive at Clergy Support Trust, speaking to the Guardian. "They live in a goldfish bowl in the vicarage. They need to get away but often they can't afford it if they have got families."
Clergy Support Trust helps these clergy (including ordinands and retired clergy), as well as their dependents and partners, in times of need. They offer grants and wellbeing support, but found it wasn't always easy to reach out to beneficiaries, who often have an "innate tendency not to come forward for help", Jeremy explains. 
Their rename and rebrand from "Sons & Friends of the Clergy" to "Clergy Support Trust" were designed to address some misperceptions around the name, and make them more visible to the people that need their support the most. They wanted to become more accessible, particularly to female clergy, and ultimately double the number of clergy families they support. Because asking for help is never a sign of weakness.
Grant eligibility checker tool
To combat the stigma associated with asking for help, IE Digital created an 'Eligibility Checker' tool (pictured below), which is central to the new Clergy Support Trust website. This allows beneficiaries to quickly and discreetly explore their eligibility for various grants, to allay any unfounded fears that they might be turned away. This functionality stemmed directly from a recommendation made by IE to the charity during the initial research for the brand, to help beneficiaries to understand what they can potentially apply for.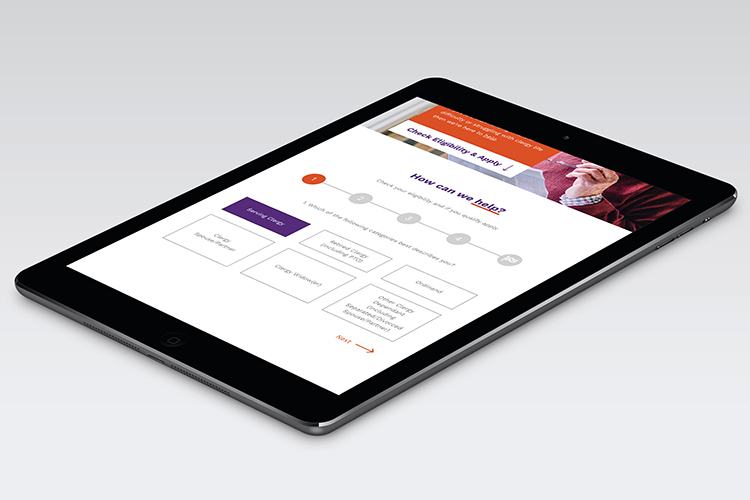 The Eligibility Checker was used over 3,000 times in its first four months. Moreover, with some of the barriers to asking for help removed, applications for grants have increased by 84% compared with the equivalent period last year. The more inclusive, confident and visible new brand, and the improved online user experience, have also played their part in the success of the new website. 
Creating the new website
The website was designed with Clergy Support Trust's different audiences in mind, and a simplified user journey.
IE put real stories of beneficiaries and their families at the forefront of the website, showing the difference the charity regularly makes to real lives. To explain their work we use a helpful, empathetic tone of voice, reflecting the charity's people who offer a caring listening ear, without judgement.
User-friendly Drupal interface
Working against the clock under short timescales, the IE Digital team created the new Clergy Support Trust website in Drupal 8, showing off the confident new visual identity beautifully. Drupal's flexible platform will allow the website to grow and evolve over time, with the potential to offer beneficiaries an increasing range of digital services, not just traditional forms of support, like grants and the helpline. 
Nick Gazard, Marketing & Communications Manager at Clergy Support Trust, commented, "Switching to a market-leading CMS like Drupal means the question isn't whether something is possible, but rather how we would like to do it.
"Upskilling the team to edit the website effectively was a short process due to the user-friendly interface. So we are now focused on changing/adding content and getting results, with more people able to effectively edit the website than before. We are now looking forward to what we can do to extend the capabilities of the website as we explore the digital possibilities for the charity."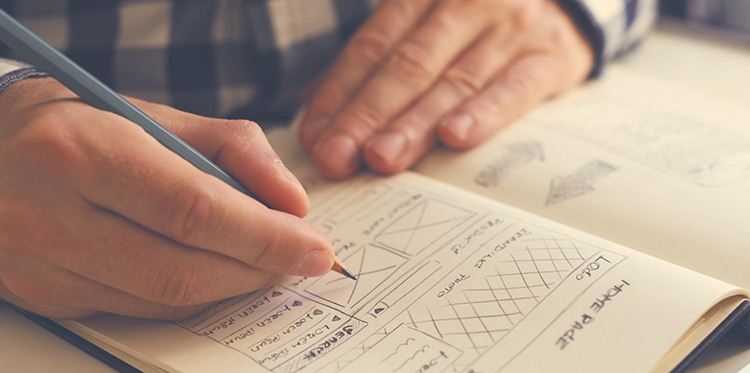 Making a difference
The significant uptick in grant applications is an excellent sign that the new website is indeed bringing the charity to more people, and will lead to more clergy families in need receiving the support they need. 
Visitors to the site have doubled in number since the new site went live. And thanks to a clearer content structure and user-focused design, the number of pages visited per session has halved, showing that people are finding the information they need more easily.
The new website is making an increasing difference, and Clergy Support Trust has received strong, positive feedback about the site.
Check out the new Clergy Support Trust website for yourself, and give us a call on 0121 693 8700 to talk about your own challenges.
About the Premier Digital Awards
Premier Digital's mission is to help the Christian community take hold of all the opportunities offered by the digital revolution. They aim to inspire people with what is possible, equip them with new ideas and skills, and connect people and organisations to achieve their aims. The Premier Digital Awards celebrate excellence, share best practice and encourage those serving God online. 
The award winners were announced on 2 November 2019, at a ceremony at the Brewery, London. 
We're delighted to be recognised alongside category winners Christians in Sport and all the other winners, runners-up and nominees!
Switching to a market-leading CMS like Drupal means the question isn't whether something is possible, but rather how we would like to do it. We are now looking forward to what we can do to extend the capabilities of the website as we explore the digital possibilities for the charity."

Nick Gazard
Marketing & Communications Manager at Clergy Support Trust